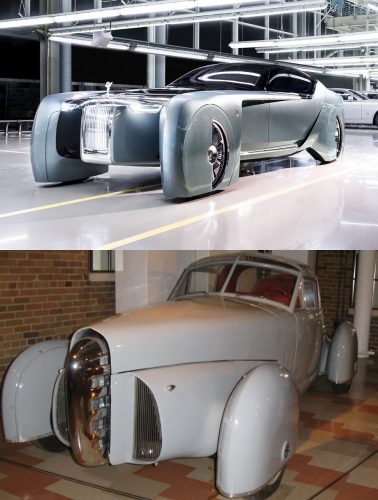 The late Gordon Buehrig's design work is pretty well known by enthusiasts, so I'd imagine that professional automotive stylists are even more familiar with his work. His Cord 810/812 and Auburn Speedster are two of the all-time great car designs. Besides his aesthetic influence, he was also a technical innovator, attributed with the invention of the styling bridge, the gantry used to take measurements from, and insure the symmetry of, clay models.
That's why I find it surprising that Rolls-Royce's VISION NEXT 100, one of the deep forward looking concept vehicles intended to celebrate corporate parent BMW's centennial, seems to borrow heavily from one of Buehrig's less successful projects.
More photos, including the Tasco in 3D, after the jump.