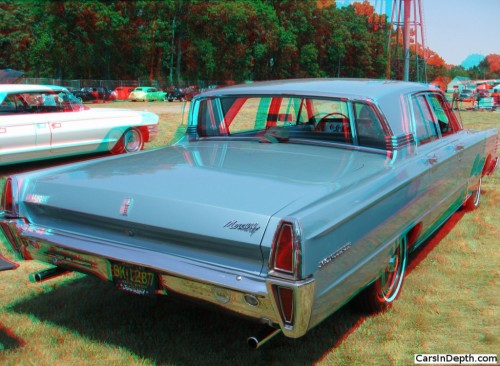 To view the entire photo gallery in your choice of 2D or stereo 3D formats, click here for a Flash player or here for an HTML applet
Ford faced a perpetual problem with its now deceased Mercury brand. Since the Mercurys were typically Fords with slightly different sheet metal and interior trim, there had to be some way to distinguish the mid-level brand from it's more mundane Ford siblings. In the late '50s, Ford designers experimented with some show cars with reverse angle C pillars. It was decided that this distinctive roofline would be used to give the early 1960s Mercurys their own look. That reverse C pillar also allowed Mercury to use another show car feature, the Breezeway retractable rear window.
It's hard for some of you younger readers to understand this, particularly after a brutal heat wave, but there was a time when only rich folks could afford luxuries like air conditioning in their homes, let alone in their cars. People would joke that their cars had "4-70 Air – open up all four windows and go 70 mph". Even an upmarket brand like Mercury sold only a fraction of their cars in the early to mid 1960s with factory installed A/C, so the Breezeway wasn't such a terrible idea. The kids in the back seat on long trips certainly liked them. For a more complete history of the Mercury Breezeway sedans, check out Aaron Severson's outstanding Ate Up With Motor.