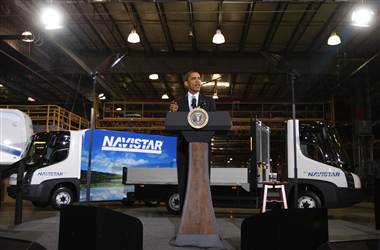 In August of 2009, President Obama traveled to a former RV factory in Indiana to announce that Navistar would be getting a $39 million grant as part of the economic recovery package to convert that factory to the production of battery powered electric medium duty delivery trucks. Navistar is marketing the electric truck under the brand name of eStar. The $39 million was just a fraction of money Mr. Obama borrowed that day on your behalf. While in Indiana the president announced a total of $2.4 billion in grants that Mr. Obama said were to
"develop the next generation of fuel-efficient cars and trucks powered by the next generation of battery technologies all made right here in the U.S. of A. Right here in America. Made in America."
The Navistar employees in attendence applauded wildly. The president continued.
I'm committed to a strategy that ensures America leads in the design and the deployment of the next generation of clean-energy vehicles. This is not just an investment to produce vehicles today; this is an investment in our capacity to develop new technologies tomorrow. This is about creating the infrastructure of innovation.
After rattling off a number of Indiana companies involved in alternatives to gasoline and diesel powered cars and trucks, President Obama turned to the factory in which he was standing.
And right here in Elkhart County, Navistar –- which has taken over two Monaco Coach manufacturing facilities -– will receive a $39 million grant to build 400 advanced battery electric trucks — (applause) — with a range of a hundred miles, like the trucks here today. (Applause.)
With that he pointed to a prototype eStar box truck and an eStar chassis behind him.
It's true that hundreds of jobs were created, though I suspect Navistar would have converted the factory, government grants or not. The eStar went into production in 2010. The problem is that President Obama was touting the grants not just as a temporary jobs program but rather as a means of making America a technology leader. "This is an investment in our capacity to develop new technologies tomorrow. This is about creating the infrastructure of innovation."
Unfortunately,none of that $39 million has gone towards creating an infrastructure of innovation. Well, at least not in Indiana or elsewhere in the US. The eStar venture is a joint project by Navistar, battery maker A123, and British electric truck manufacturer Modec. Modec supplies chassis and drivetrains, A123 supplies batteries, and Navistar assembles the finished trucks in Elkhart. Yes there are jobs in Indiana, but just about all of the innovation and technology is being done in England. It's not clear if A123 produces the batteries in the US or in one of their offshore facilities. As far as I can determine, they're off-the-shelf cells, not purposely engineered for the eStar.
To be honest, I don't particularly care where American firms source their components as long as they are high quality. If Navistar wants to use English components, as long as they build a good truck out of those components, and use their own money to buy them I have no objections. We live in a global economy. Besides, in the automotive world the high value work is in design, engineering and marketing.
There's no evidence that any of the grant money actually went toward the procurement of Modec components made in the UK. As mentioned, there are Americans employed doing final assembly. However, to portray the Navistar grant as facilitating American innovation when all the technology in the project was planned to be UK sourced is misleading at best. Perhaps it would have been different if Navistar intended to eventually build the EV components in house, or if Modec had planned on opening a US facility. However, no such plans seem to have been considered. That high value design and engineering work is being done in the UK, not Indiana. Small wonder that when a reporter visited the Modec factory in Coventry, there was a video screen in the factory lobby playing photos of President Obama on an endless loop.