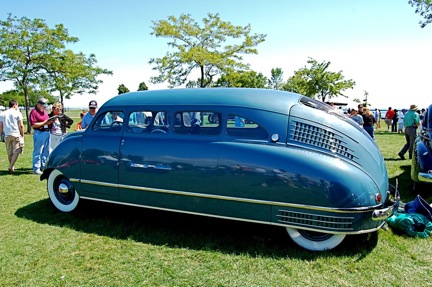 Sure, you've heard of the Stout Scarab and you may even know a little about it.  But have you ever actually seen one on the hoof?  Given how rare the Scarab is, chances are good that you haven't and never will.
The Scarab was the brainchild of William B. Stout, an engineer and inventor who had considerable experience in both the early automotive and aeronautic industries.  In 1932 Stout set about to design a new type of automobile, one that broke pretty much all the rules.  The Scarab certainly didn't follow many of the rules of automotive design or engineering of its day.
The Scarab was built on a unibody chassis, eschewed running boards, pushed the body sides out to the edge of the vehicle and the wheels out to the far corners.  The engine, a Ford V-8, was mounted in the rear of the car and drove the rear wheels allowing for a low, flat interior floor.  The suspension was fully independent and featured a kind of coil-over-shock design at all four corners.
This forerunner of the modern minivan sported an interior that could be configured in a variety of ways and could seat as many as eight people in lounge-like comfort.  Stout even threw in a removable card table.
Stout built a second prototype in 1935 after refining the design a bit and adding a heavy dose of art deco bling in the form of expensive chrome grille-work front and rear.  Stout apparently liked to show off the revised suspension by driving around with a glass of water sitting on the car's card table without spilling any.
Although the Scarab garnered a great deal of attention at the time, its price tag kept sales to a minimum.  At $5000 it cost several times the price of an ordinary car and considerably more than many premium brands at the time, though Stout never expected the car to sell in large numbers.
In all, the Stout Motor Car Company produced nine cars, mostly for wealthy industrialists such as Harvey Firestone, Phillip Wrigley and Willard Dow.  Five of those cars are believed to still exist including this one owned by a collector from Franklin, Wis.  He brought it to the Milwaukee Masterpiece Concours d'Elegance in 2009 where these photos were snagged.
Check this site for more detailed information.