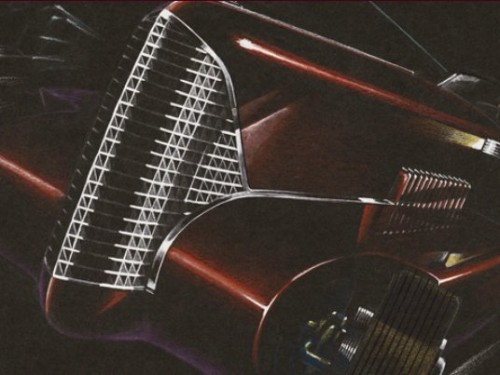 Is it time to build a museum dedicated to automotive art? I was just going through Future Retro, a book about fine art connoisseur Frederic Sharf's collection of original styling sketches and drawings from the domestic automakers' design studios.  The fine art world, apparently, has embraced the automobile. The Museum of Modern Art in NYC has a Cisitalia on permanent display. The Portland Art Museum, last year, put on an exhibit with 15 cars called The Allure of the Automobile. The museum described it as "the first exhibition to consider the stylistic development of cars in the context of prominent design movements such as Art Moderne and Postwar Modernity."  The Utah Museum of Fine Arts is currently exhibiting Speed: The Art of the Performance Automobile, including 19 cars organized and curated by automotive writer and historian Ken Gross.
Car enthusiasts have been buying art with automotive themes for generations and now fine automotive art shows and sales are frequently held in conjunction with top shelf car shows and auctions. I don't know if it could be financially self-sustaining, but I think a Museum of Automotive Art would be a great idea.
I envision the MoAA as having a number of galleries, each dedicated to a different aspect of the topic. One gallery would include drawings as in Future Retro, actual hand drawings and paintings from styling studios in the pre-digital era. A second gallery would feature the commercial art used in advertising from the same times. A digital gallery would display more modern renderings and hopefully it can include some of the display technology used by the styling studios themselves.
A fourth gallery would be dedicated to the model makers, who are critical to the design process but often unacknowledged when it comes to taking credit. It turns out that in our digital era, when a design can be rendered in three dimensions in the digital domain and then directly carved out of clay by a multi-axis digitally controlled machine, designs still need to be fine tuned by hand by model makers reshaping the clay. I'm an unabashed enthusiast of stereo 3D photography and video, and I have no doubt that 3D is superior to flat photography when it comes to reproducing the shape of three dimensional objects, like cars, but as good as the best 3D is, no simulation is as good as reality.
So the Museum of Automotive Art will have a gallery devoted to models used in the styling process. Of course scale models will be part of the gallery, but it'd be cool to have a full size clay model, perhaps one in progress.
Two more galleries would be devoted to photography. One would be, as with the hand drawn art, commercial photography used in advertising or other marketing. The other photo gallery would feature the work of great photographers whose photos have graced car magazines and coffee table books along with fine art photography that involves cars.
Two more galleries would be for fine automotive art. One would be for historic pieces, the other for contemporary artists.
No museum dedicated to automotive art would be complete without cars, of course, so there would be three galleries devoted to cars. One gallery would be devoted to historic production cars that were particularly significant in terms of design. Another would feature concept cars. A third would feature contemporary cars that are noteworthy in terms of design.
Finally, a gallery for mascots, hood ornaments, logos, and branded trim that dress up cars would be appropriate.
As I said, I don't know if such a museum could be self-sustaining. Obviously it would have to have patrons, both in terms of financial support and those who would donate or loan artworks and cars for display. Then there is the related question of location. Of course I'm biased but if the Rock and Roll Hall of Fame is located in Cleveland because that's where Alan Freed coined the phrase, than the Museum of Automotive Art should, by rights, be located somewhere near Detroit.