A five-alarm warehouse fire in Charlton, MA that destroyed Werke Classic Coach, a highly regarded vintage car restoration shop, along with at least a dozen very valuable vintage automobiles, could have been averted if government officials had not ignored their warnings about an illegal chop shop on the site that was a fire hazard. Owners of Werke Classic said that their losses were in the millions of dollars. They were insured but some of the destroyed cars, including vintage Porsches and a Rolls-Royce, were worth six and seven figures each and pretty much irreplaceable. A few cars were saved before the fire spread to the shop. The shop operators are blaming an illegal chop shop nearby that they said was unsafely dismantling cars and shipping containers of parts overseas. In addition to blaming the dismantlers, whom they say were cutting out gas tanks with torches, the shop owners pointed fingers at the state police and the local fire department as well as building inspectors who ignored repeated complaints about the chop shop's dangerous practices. In addition to using unsafe practices, the restorers Classic allege that the chop shop was operating without a needed mechanic's license.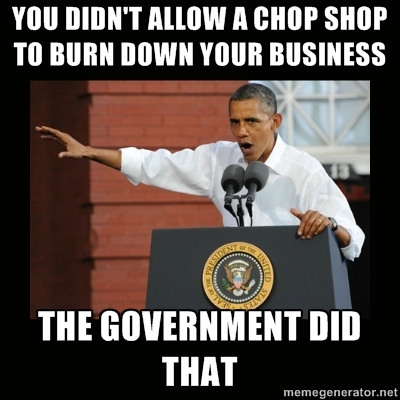 Werke Classic Coach owner Gary Cove told The Worcester Telegram and Gazette, "The issue was where they were cutting (cars), it was a container that was all wood."  Cove told the newspaper that he had reported it a number of times to local officials and state police. Werke Classic had operated in that location for 22 years.
"I've told the town before; I've told the fire department before." Cove said his most recent attempt to contact the fire department was a month ago. The chop shop was originally located in the main mill building before it relocated to the warehouse. Mr. Cove said he had contacted fire officials about the chop shop's earlier location because it reeked of gasoline.
Nick Schiappa, a friend of the owner's son said that Werke and other tenants in the warehouse complex had complained to authorities repeatedly about the illegal chop shop. "It's a shit story," Schiappa said. "Him and his dad and a couple of other people in the complex made numerous calls to the Fire Department because these dudes from Ghana were cutting gas tanks out with torches… Everybody called the powers that be, and they didn't do anything."
Brandon Cove, Gary's son told Jalopnik that the chop shop had located in the warehouse, a former mill complex, about two years ago, towing in salvaged cars, dismantling them, putting the parts in shipping containers bound, apparently, for Africa.
"We complained to the building owner, the police, the town, and the building inspector," Cove said. "We were told the problem was statewide. Nothing was ever done."
Cove said that he was working on a vintage Datsun Z race car when he heard an explosion and saw flames in one of the buildings. The building had no fire systems and there were no fire hydrants in the area, forcing firefighters to draw water from a private lake a half mile away.
The shop restores and services vintage European cars and vintage race cars. As the fire approached their building, Brandon rolled a Shelby 289 Cobra to safety in a storage shed. Other cars they saved were the Z that Brandon was working on, a Mercedes 300 SL roadster, an BMW E30 M3, and a 1964 Alfa Romeo. Lost were "several" Porsche 356s and 911s, two Jaguar E-Types, a '71 Mercedes Benz 280 SL, a 1930s Rolls-Royce and other cars. Also destroyed were spare parts and many of the shop's tools.
"It's unreal," Cove said of the destruction of his father's shop. "My whole adult life I worked there, and I hung out there as a kid."
As mentioned, the business was insured and the Coves plan to start over. First on the agenda, though, is a lawsuit. They plan to "sue everyone in sight" over their ignored complaints. Frankly, they'd probably have as much success trying to recover damages from the operators of the chop shop. Those police, fire and inspection officials most likely have legal immunity.
As would be expected from an unaccountable public employee, the local fire chief disclaimed responsibility for not acting on the complaints, shifting the blame for the fire on the landlord for altering the building without permits  over the past two decades.
"We were aware of violations in that building and we were trying to straighten out 20 years of mess," said Curtis Meskus, who is the town's assistant fire chief and  building commissioner.
He excused his departments' lack of action on the Coves' complaints, saying, "I have received no written complaints from anyone about anything in that building."
So he wants to get credit for being aware of violations that he can pin on the landlord, while claiming to be unaware of the actual fire hazards in the building because those complaints were not "written".
Tar. Feathers. Pitchforks.