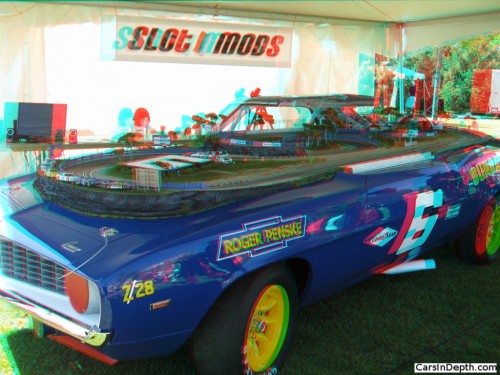 To view the entire photo gallery in your choice of 2D or stereo 3D formats, click here for a Flash player or here for an HTML applet
There's something about slot cars that makes them continue to fascinate us and hold our attention even in an era of radio controlled quad-rotor drones. Maybe it's that we love to watch even little cars that can "handle like slot cars", or perhaps it's the appeal of finding the limits of oversteer with only the throttle to control. Whatever it is, they're an evergreen toy for kids of all ages, though by now there are digitally controlled tracks that allow multiple cars on the same slot and even slot car smartphone apps. At almost every major auto show, there's a good chance that at least one automaker or other exhibitor will have a slot car track set up somewhere in their display. If there is a track set up, there's also a good chance that it will have been made by Dave Beattie and his artisans and craftsmen at Slot Mods in suburban Detroit.
Start the YouTube 3D video player. Click on the red 3D icon in the menu bar to select 2D or your choice of stereo 3D formats.
Ironically Dave used to make his living working designing those same large exhibits at the big auto shows. Then, in the economic downturn he got laid off. After a lot of hard work and some luck he's found a niche making high end man cave toys. Jay Leno is one of Slot Mod's customers, so is Jim Farley, Ford's marketing honcho, as well as a number of corporations. What makes Slot Mods' tracks so appealing is that in addition to the actual track, their installations include realistic scenery and dioramas, with many of the layouts duplicating track sections and landscapes from actual tracks like Farley's track based on Laguna Seca. It's not just the track and scenery. They've also done some creative installations like the track inside a Porsche 917 replica, provided by Race Car Replicas, a high end kit car company also in suburban Detroit.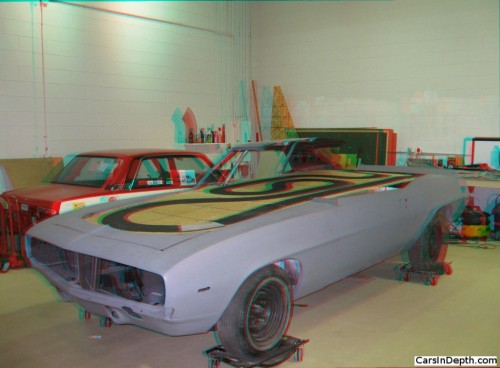 To view the entire photo gallery in your choice of 2D or stereo 3D formats, click here for a Flash player or here for an HTML applet
I had the opportunity to visit Slot Mods' shop and the quality of the craftsmanship and attention to detail is first rate. That kind of quality comes at a price so it's not unusual for an installation to cost tens of thousands of dollars. That kind of quality also attracts discerning customers and Slot Mods has a backlog of orders. Still, much as I love slot cars and respect artisans, if I had a spare $60,000 that I was going to spend on my man cave (that is, if I wanted a man cave), there are a lot of very nice real cars that one can buy in that price range. So far, all of the tracks that they've built have been full custom jobs. Barrie told me that they were considering producing a more generic track that would be significantly less expensive.
When I visited their shop last winter, they were working building a track into a '69 Camaro. At the time they were hoping to have it done in time to reveal it at the 2012 Detroit Autorama, but problems getting the car's bodywork done, intended to reproduce the look of the famous #6 Camaro that Mark Donohue drove for Roger Penske in the Trans Am series, made them miss that deadline. The project was indeed finished and SlotMods had their cars-on-a-track-in-a-car set up at the Concours of America this past weekend.