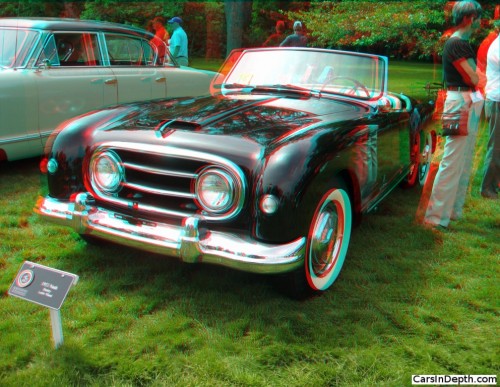 To view the entire photo gallery in your choice of 2D or stereo 3D formats, click here for a Flash player or here for an HTML applet
This 1953 Nash Healey was at last year's Eyes On Design show, which featured independent American automakers as one of the judged categories. From Ate Up With Motor's usual outstanding job on the history of the Nash Healey Anglo-American sports car, Born on a Boat: Donald Healey and the Story of the Nash-Healey:
In the fall of 1949, wealthy American sportsman Briggs Cunningham bought a pair of Silverstones for competition use. While one retained its Riley powertrain, the other was fitted with Cadillac's new OHV V8, backed with a Ford gearbox and torque tube and a Columbia axle, providing much-improved performance. Intrigued, the Healeys obtained another Cadillac engine and built a similar car for testing purposes. They found that the 5,425 cc (331 cu. in.) Cadillac V8 was no heavier than the bulky Riley four — if anything, the swap actually improved weight distribution — but even in stock form, the V8 produced 56 more horsepower (42 kW more) and more than twice as much torque. Geoff Healey and experimental engineer Roger Menadue drove the Cadillac-powered test mule extensively, finding it intimidatingly quick.
Donald Healey was very interested in the prospect of a Cadillac-powered Silverstone not only because of its scorching performance, but also because it suggested a way to crack the American market, where Healey had so far managed to sell only a handful of cars. The U.S., then in the throes of an automotive boom, seemed to offer far richer prospects for expensive, limited-production sports cars than the fractured economies of postwar Britain and Europe, something the Donald Healey Motor Company — by then nearly £50,000 ($140,000) in debt — needed very badly.
In December, Donald Healey boarded the liner Queen Elizabeth, bound for the U.S. and a meeting with Cadillac chief engineer Ed Cole about purchasing additional V8 engines. Aboard ship one day, he struck up a conversation with a tall, portly gentleman carrying an elaborate stereo camera rig. The man with the camera turned out to be George W. Mason, president of the Kenosha, Wisconsin-based Nash-Kelvinator Corporation, who was then on his way home from a tour of major European auto shows. Mason was very interested in Healey's business and invited Healey to call on him in Kenosha if the negotiations with Cadillac didn't pan out.
When Healey got to Detroit, Ed Cole told him apologetically that Cadillac was already struggling to keep up with demand for the new V8 and had no capacity to spare. Recalling George Mason's offer, Healey went on to Wisconsin for a meeting with Nash executives. Nash did not yet have a V8 engine, but they did have a big 3.8-liter (235 cu. in.) six, which Mason was happy to supply. Even better, Mason was interested in distributing the Nash-engined cars through his U.S. dealerships and he was willing to advance Healey the engines and running gear, rather than demanding payment upfront. It was exactly what Healey needed, providing a way into the American market and helping him square his company's outstanding debts.