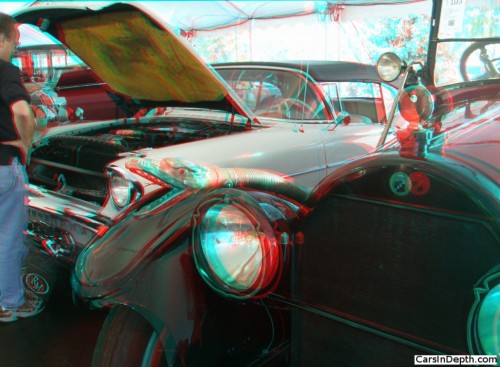 To view the entire photo gallery in your choice of 2D or stereo 3D formats, click here for a Flash player or here for an HTML applet
The catalog for the RM Auction held in conjunction with the 2012 Concours of America describes this snake shaped bulb horn as "whimsical". The 1921 Cadillac that it's mounted on spent most of the first half century of its life in India, so it's possible that's where the horn came from. Whenever it was added to the car it's certainly a very cool period accessory. Vintage Cadillac enthusiasts might disagree, the car sold for only $22,000 after a presale estimate of $40,000-$50,000.
Car description courtesy of RM Auctions after the break.
31.25 hp, 314.5 cu. in. L-head V-8 engine, three-speed selective sliding gear transmission, full-floating rear axle, and mechanical brakes on two wheels: one external, one internal. Wheelbase: 132″
• Low production model year for Cadillac
• Recent mechanical service by Stone Barn Restorations
By 1921, steadily increasing sales at Cadillac had taxed production facilities to the point where operations were scattered among 70 different buildings around Detroit. That year, the General Motors division moved to its new Clark Avenue facility on the city's west side. The move turned out to be complex and time consuming due to the tremendous logistics involved in an era when project management was not the discipline it is today. As a result of these challenges, Cadillac carried over most of its 1921 models from 1920 virtually unchanged. At $3,940.00, the seven-passenger touring car with auxiliary jump seats was one of eight models offered. Production was held to just 11,130 cars for the model year. Noteworthy was the addition of an access panel in the chassis apron that concealed the battery; this was a desirable feature in an era when most batteries were inconveniently located either below the floor of the driver's compartment or under the front seat.
Perfect for touring, this older restoration is a nicely running driving example with recent mechanical service by Stone Barn Restorations. It is finished in maroon with black fenders and wooden artillery wheels with a natural finish. The black interior shows slight wear with one noticeable flaw in the back rest of the front seat. Interestingly, it spent most of its life in India in the State of Bahar until it was repatriated in the 1960s. In its current ownership since 1985, it is equipped with a whimsical snake bulb horn, driver's side spotlight, rear-mounted spare, and a Motometer radiator cap. The horn is installed without mounting holes so that it can be easily removed, should the new owner desire to do so. Low production ensures attention at the next Cadillac LaSalle Club meet or AACA Reliability Tour.