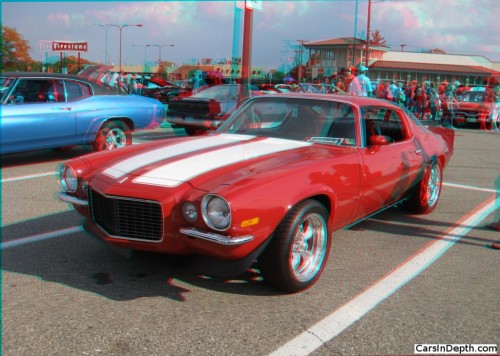 To view the entire photo gallery in your choice of 2D or stereo 3D formats, click here for a Flash player or here for an HTML applet
It's not surprising that GM designer Tom Peters, who headed the exterior design on the current Camaro, based it on the popular 1969 version of Chevy's pony car. At the GM Design Employees car show held in conjunction with the 2012 Woodward Dream Cruise, Peters was proudly showing off his replica of a '69 ZL1. A photo is below. Not far from Peter's 'ZL1', though was a nicely restored, mild custom 2nd generation Camaro, which was introduced in the middle of the 1970 model year. I've always thought that the 2nd gen Camaro was one of the best looking American cars ever, actually one of the best designs period. I think it's just a beautiful, clean design with great lines. Some say that it has a European look to it, but if you look at the history of GM Design you will see some of this car's design themes start showing up in GM concepts from the early and mid '60 that were designed at GM's Warren, MI tech center, not Europe. As iconic as the '69 is, I'd love to see a modern take on the 1970.5. If the 2nd gen Camaro is the best looking Camaro, then the split bumpered versions are the best looking 2nd generation Camaros. Increasingly stringent Federal bumper standards doomed that look but this car shows how GM Design was hitting on all cylinders in the late 1960s. My internet search fu must be weak today because I can't seem to find out who designed the exterior of the 1970 Camaro, so I sent friend of Cars In Depth Michael Lamm, who literally wrote the book on the Camaro, an email. When Mike gets back to me I'll update this post. It's a great design and whoever drew it deserves mention.
UPDATE: [from Michael Lamm]: As I recall, the Gen 2 Firebird and Camaro were done together, with Pontiac providing the lead. Jack Humbert came up with the initial 1970.5 F-Car theme. The Firebird studio chief designer was Bill Porter, and the Camaro's was Hank Haga, all watched over, of course, by Bill Mitchell.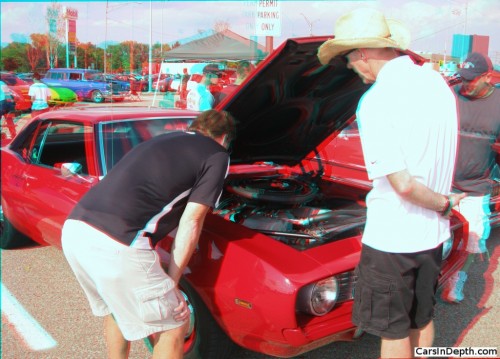 To view the entire photo gallery in your choice of 2D or stereo 3D formats, click here for a Flash player or here for an HTML applet