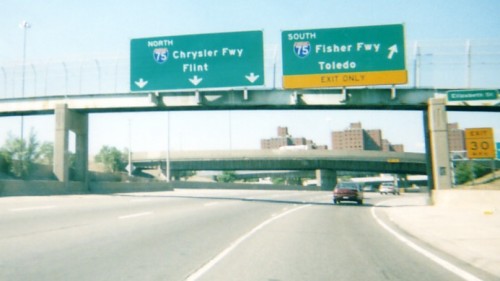 When you visit Detroit, driving in from the airport you may notice that I-94 is called the Edsel Ford Freeway, or if you're headed out to Chrysler's headquarters in Auburn Hills, it's just off of the Walter P. Chrysler Freeway (I-75). If you drive from the Chrysler campus down to the RenCen, where GM's HQ is in downtown Detroit, you'll exit the Chrysler and get onto I-375, AKS the Fisher Freeway, as in Fisher Body. You may find it ironic to be driving your rental Hyundai on roads named for famous American automakers, but actually it's hard to drive anywhere in the Detroit area without driving on or passing by roads and buildings named after automotive giants. Even more ironic is the fact that those streets were named to memorialize prominent personages, yet now the personages are forgotten or their connection to the world of cars has faded into the mists of memory.
Like most American cities, Detroit has streets named for presidents, like Washington Blvd or Garfield Ave. Cass and Schoolcraft were territorial governors before Michigan became a state. Though it doesn't have a Front Street, like many river front cities, if you duck out of Cobo on the waterfront the street between Cobo Hall and the Detroit River is called Atwater (it may have also been named for a prominent Detroiter named Attwater). While many American cities honor Revolutionary War hero Lafayette, unlike most American cities, Detroit was first settled by the French, so there are many other French street names: Beubian, Gratiot, Dequindre, Jos. Campau, and others. Often those streets first abutted farms owned by families with those names.
As one might expect in the Motor City many of the roads around here have automotive connections,. Though many of those street names were assigned to honor important automotive pioneers, the vast majority of Detroit area residents have not even a clue after whom they were named. Certainly they know that the Chrysler and Ford expressways were named after the founders of those companies (though they are far more likely to know Henry's first name than Walter's), but the majority of the people honored by those street names have long since faded into relative oblivion.
I'm a lifelong Detroiter and enough of a car guy that I get paid to write on the subject but it wasn't until I started reading up on the early automobile industry in Detroit that I realized just how many road and street names around here are named after automotive personages. In fact on a web page about the origins of Detroit street names, while the automotive connection of some of the street names is noted, the author just didn't know enough about the early auto industry to recognize a number of streets whose names are familiar to automotive historians. In the case of James Couzens, his career as mayor of Detroit is mentioned, but his earlier important role in the auto industry (he ran the business of a guy named Henry Ford) was apparently as unknown to the author as it is to most of the Detroiters who drive on James Couzens.
Before I get to the street names that are indeed named after car people or companies, first let me dispose of two street names that at first glance might appear to be automotive in origin but actually it's the other way around. Cadillac Square and the eponymous car company is named after Antoine Laumet de La Mothe, sieur de Cadillac, the French explorer who landed in 1701 on the shores of the straight (De Toit) between Lake St. Claire and Lake Erie. Pontiac, the city, and the various roads that include Pontiac in their name, like Pontiac Trail, and the spinoff brand from GM's Oakland marque were named after the Odowa (Ottawa) chief, Obwandiyag, who led a rebellion against the British in the 18th century. The car brands and streets were named after the actual individuals (hence the old Pontiac logo that featured an Indian head, as well as the stylized arrow graphic used later, and Cadillac's use of Antoine's family crest). Likewise, Plymouth road was named after the village of Plymouth in 1898, 30 years before Walter Chrysler launched the Plymouth brand, named after the early American settlement.
Streets named Ford, though, most definitely have something to do with either the car company or Henry's family. There's the aforementioned Ford freeway, officially the Edsel B. Ford Freeway, named after Henry's only son. There had been plans to name one of Detroit's first expressways after Roy D. Chapin, who ran Hudson motors and earlier was an important associate of Ransom E. Olds, but when the roadway was being constructed in 1946, Chapin had been dead for about a decade, and Edsel Ford's recent death was more freshly in people's minds. To show the kind of power the Ford family had in the region, they made it clear that unless the Detroit City Council voted unanimously to memorialize Edsel, they would pass on the honor. Though the road naming commission had earlier favored Chapin's name, the city council voted per the Ford family's wishes. It's not likely that Chapin would have complained. He was a fairly modest man as well as a close friend of Edsel Ford's, so close, in fact, that Edsel and his wife Eleanor were photographed standing on the running board of one of Chapin's Hudsons. It's not likely that any other ranking Ford executive or manager could have done that without raising Henry Ford's ire.
In addition to the freeway that bears his name, there is also an Edsel Street in Detroit. Of course in and around Detroit there are even more roads named after Edsel's father, Ford Avenue in Highland Park where Ford built his first large factory, Ford Highway, Ford Court, and Ford Road. Since Ford Road runs through Dearborn, it's possible that the road was named after the location of Ford operations there rather than after Henry himself.
Chapin's car company had better fortune than he did, at least concerning street names. Detroit has a Hudson street. Now like Pontiac and Cadillac, it's possible that the street wasn't directly named for the car company, but there is an automotive connection. When Ransom Olds left Oldsmobile, Chapin and three of his associates also bailed, deciding to start their own company. At the time, the practice was to develop a prototype car and then get financial backers to put it into production. Chapin and company found their angel in one J. L. Hudson, founder of the Hudson's department store (bought out first by Target, all the Hudson's stores are now Macy's). Hudson put up the money (he sold his interest at a profit once the company started thriving) and in exchange they named the company after him. It's not clear if the street was named after the car company, the department store or the person of J.L. Hudson.
Much of Detroit is laid out on a north-south east-west street grid. The major streets are spaced a mile apart and while some of the east-west streets have numerical names indicating their distance from Michigan Avenue downtown (Michigan Ave. becomes US 12 and that's the old Detroit-Chicago highway), like Eight Mile made famous by Eminem, others have been named for people. The road 2 miles from Michigan Ave. is Joy Road. Joy is another of those forgotten industrialists, Henry Bourne Joy, who put together the investment group that founded Packard Motor in 1902, later serving as president and then chairman of the board. Joy was also a strong backer of the Lincoln Highway, a proposal put forth in 1913 to build a concrete roadway from New York to San Francisco (Los Angeles at the time was a small town on the edge of the desert). Joy's wife, Helen Newberry, has a dormitory at the University of Michigan in Ann Arbor named after her, along with an adjacent street.
I already mentioned James Couzens, who is memorialized by James Couzens Highway, a major thoroughfare that becomes Northwestern Hwy as it exits the Detroit city limits. Most Detroiters, if they know who Couzens was, know about his life as a politician. That was his second career, made possible when Henry Ford bought out Couzens' interest in FoMoCo for over $29 million in 1919 (over $350 million in 2010 dollars). Couzens was Ford's treasurer, purchasing agent, plant manager, business manager and in general Ford's right hand man, until 1915, when Ford's megalomania started to manifest itself in earnest. Couzens, tired of the spying, paranoia and Ford's increasingly controversial public statements, resigned. Couzens had such a large role running Ford and Henry's eccentricities were already well known that some predicted FoMoCo could not survice Couzens' departure.
When Ford bought out Couzens, he bought out all of his other investors as well, including the Dodge brothers and Horace Rackham. The Dodges had been Ford Motor Company's primary supplier. Ford is famous for vertical integration, eventually producing nearly all of its components in house, but in the early days Ford cars were primarily built by the Dodges. From 1908 to 1914, when they decided to start up their own car company, tired of Ford's mishega'as, they supplied Ford with almost completed Model Ts. Ford's Highland Park plant added wheels, tires, a body and interior. When the Dodge brothers both died suddenly in 1920 (they were heavy drinkers and there was an influenza epidemic going on), their widows sold out, the company passing into the control of Walter Chrysler in 1928, so for the most part, except for the magnificent Meadow Brook estate that John Dodge built in Oakland County, there is little to remember them by around Detroit. Lesser automotive giants have streets named after them but to memorialize Horace and John Dodge a number of recreational parks they donated to the state share their name. There are also a number of Dodge streets in the area that may have a connection. Developers can name streets however they want so those Dodge streets might be named after John, Horace, the company they started or even the '66 Dodge whose back seat is fondly remembered by the contractor. There's a subdivision in Sterling Heights where all the street names are 1960s vintage cigarette brands.
Horace Rackham got paid $12.5 million (1919 dollars) for his shares in Ford. He and his wife had no children so he gave away the bulk of his estate. The graduate school at the University of Michigan is named after him, as is an auditorium on campus. A golf aficionado who thought the game was good for urban residents, Rackham donated a large plot of land in then Royal Oak (now Huntington Woods) to the city of Detroit and paid Dennis Ross, famed designer of courses at Pinehurst, Inverness and Oakland Hills, to lay out a public golf course that still stands. Surprisingly, for all the institutions in the area named after Rackham, I was only able to find one street possibly named after him, Rackham Drive, in suburban Lathrup Village.
Chalmers street in Detroit proper is named after Hugh Chalmers, a National Cash Register executive who put up the money for the Chalmers car company, an important firm in the young auto industry that fell on hard times in the 1920s. After Walter Chrysler took control of Maxwell Motors, he absorbed Chalmers into his growing empire. There is also a Maxwell Ave. but it never intersects with Chalmers as they are both north-south streets in Detroit's grid.
Detroit does have a Ransom street, but it's a common street name in Michigan and Mr. Olds might have been named after the same Ransom. Hudson had a brand called Essex, but the street name predates the company. Essex is a prominent name in southern Ontario. Likewise, Elgin Ave. is likely to not be named after the Elgin automobile, which was made in Argo, Illinois, not Detroit.
Ewald Circle, downtown, most likely has a connection with Campbell- Ewald, Chevrolet's long time ad agency. Farnsworth street is named after Grover Farnsworth, president and manager of the Detroit Automobile Exchange.
The name DeRoy appears on buildings around Detroit, on the campus of Wayne State and at the Jewish Community Center. Aaron Deroy was a successful car dealer, sort of a proto Penske or Hendricks, with a chain of dealerships in the midwest (mostly independents like Kaiser and Studebaker).
.
Continental Ave. is possibly named after the Continental engine company, which supplied motors to some of the independents.
The Scripps Booth family has a long and distinguished role in Detroit history. The Detroit News and what is now television station WDIV were both started by that family. So it's not surprising that there's a Scripps Avenue in Detroit. James Scripps Booth was an artist and engineer who founded the Scripps-Booth Automobile Company in 1914. After he was forced out of General Motors, Billy Durant acquired control of Scripps-Booth and eventually renamed it Chevrolet in 1917. Scripps-Booth conceived the "Bi-Autogo," a two-wheeled motorcar prototype vehicle. The "Bi-autogo" had the first V-8 engine ever built in Detroit.
Automotive history surrounds you in Detroit. Whether you're a visitor or you've lived in the area for your entire life, as you travel around the city and region take a moment to think about people like John Scripps Booth and James Couzens.