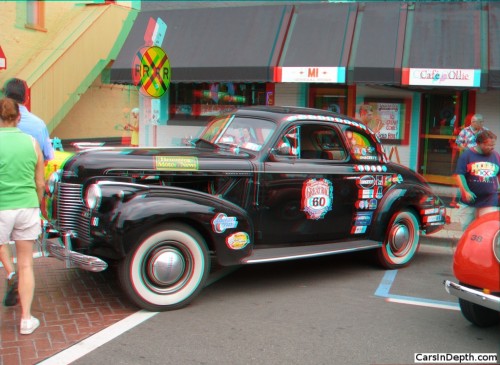 To view the entire photo gallery in your choice of 2D or stereo 3D formats, click here for a Flash player or here for an HTML applet
For 1940, Chevrolet completely redesigned their cars, advertising their "Royal Clipper Styling". They were more streamlined, given headlights that were faired into the fenders, a grille that evoked the more expensive Buick and an "alligator" style (as opposed to a center hinged) hood. Wheelbase and overall length were increased, as were prices, which went up 4%. The Master Deluxe was in the middle of the Chevy lineup, which included the Master 85, the Master DeLuxe and the Special DeLuxe. The base model was spartan, with an I-beam front end. The Master DeLuxe had independent front suspension and nicer trim. The Special DeLuxe had more brightwork and other amenities. America was coming out of the Depression, finally, and Americans wanted a little bit of luxury. All Chevrolets that year, as they were from the 1920s to the 1950s, were powered by the Stovebolt Six inline 6 cylinder, designed originally by Alex Taub and honored by this '40 Master DeLuxe Business Coupe's license plate.
Start the YouTube 3D video player. Click on the red 3D icon in the menu bar to select 2D or your choice of stereo 3D formats.
It's not well known, nor often taught in American schools, but the Great Depression did not end with the election of Franklin Delano Roosevelt in 1932. As a matter of fact many of FDR's policies prolonged the Depression deep into the 1930s. In 1937 unemployment again went up significantly. It was World War II, and attendant military needs that brought an end to the Great Depression in the US. By 1939 the US economy was growing again as the US started building up it's own armed forces and selling weapons to Great Britain.
As a result, unemployment started going down and those high prices didn't hurt Chevy sales. As a matter of fact, production went up 38% from the 1939 calender year and the best seller was the most expensive Special DeLuxe model. John Hudson's '40 Master DeLuxe participated in the 2012 Great Race.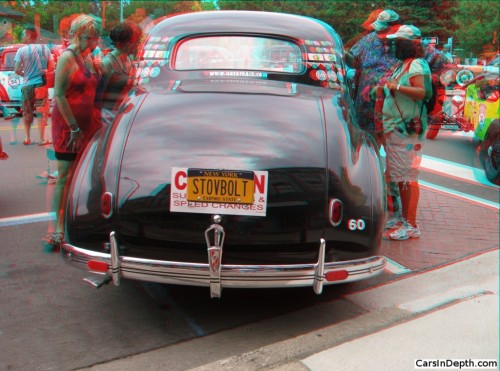 To view the entire photo gallery in your choice of 2D or stereo 3D formats, click here for a Flash player or here for an HTML applet