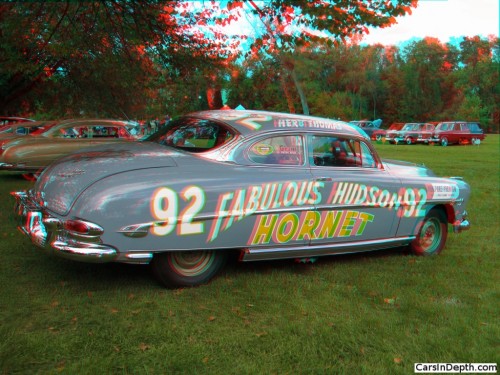 To view the entire photo gallery in your choice of 2D or stereo 3D formats, click here for a Flash player or here for an HTML applet
Three legendary NASCAR drivers were associated with the Hudson Hornet, Tim Flock, Marshall Teague and Herb Thomas. It was Teague who realized that the "step down" Hudsons, with their lighter unibody construction and low center of gravity could be advantageous on a race track. He also enlisted Smokey Yunick to tune the "Twin H Power" Hudson inline six. The result was 27 victories in 34 major stock car races, including 7 sanctioned by NASCAR. Teague, though, chafed at NASCAR founder Bill France Sr's dictatorial ways and he left that series in the middle of the 1952 season. Thomas had switched to Hudson at Teague's suggestion in the middle of the 1951 season and won the NASCAR championship that year. Two years later he completely dominated the field, winning 12 races and becoming NASCAR's first two-time champion.
Start the YouTube 3D video player. Click on the red 3D icon in the menu bar to select 2D or your choice of stereo 3D formats.
Teague's restored Hornet is on display at the Gilmore Museum near Kalamazoo. Thomas' race car, also restored, is in the collection of the Ypsilanti Automotive Heritage Museum. The museum sponsors the annual Orphan Car Show and while you can see the car in static display whenever the museum is open, you don't often get a chance to see a historic race car like this actually being driven. I happened to be on the show field near the Hudsons while they were being driven past the judging stand and was lucky enough to get video of the actual Fabulous Hudson Hornet in action.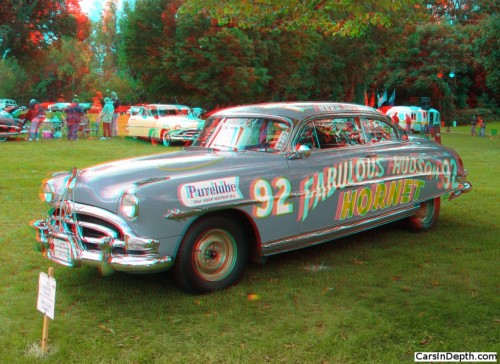 To view the entire photo gallery in your choice of 2D or stereo 3D formats, click here for a Flash player or here for an HTML applet