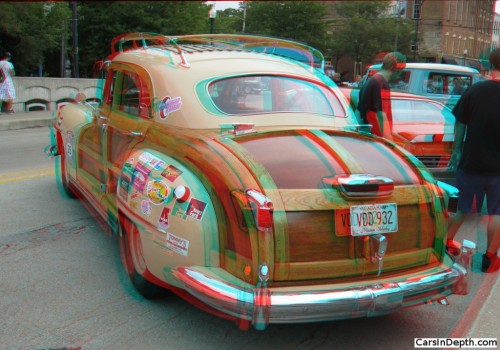 To view the entire photo gallery in your choice of 2D or stereo 3D formats, click here for a Flash player or here for an HTML applet
Chrysler has used the name Town & Country on a broad variety of vehicles. It currently adorns the slightly fancier version of the corporate minivan. The original was introduced just before World War II as a station wagon with a steel roof and a "woodie" body. GM contracted the building of its woodies to Ionia Manufacturing in Ionia, Michigan. Ionia also had a role in Ford's woodies (and in the first Corvettes, and in some Shelby Mustangs too). Chrysler's woodies, though, were in-house affairs, with beautifully finished finger jointed ash framing and mahogany panels. Last year the Packard Proving Grounds' Cars R Stars show featured woodies as a judged class. Even among all those other classic woodies, including some Packard, the Town & Countrys stood out, the woodwork is that impressive.
Start the YouTube 3D video player. Click on the red 3D icon in the menu bar to select 2D or your choice of stereo 3D formats.
After WWII, Chrysler President David A. Wallace decided to expand the T&C brand and hoped to build a full line of Town & Countrys for 1946: a hardtop, two-door brougham, roadster, four-door sedan, and convertible but only the sedan and convertible were produced, though prototype of the others exist. Postwar Town & Countrys were luxury cars when new and today they can bring six figures at auction. In the middle of the 1947 model year, the mahogany was replaced by DiNoc, a vinyl fake wood. This '47, which participated in the 2012 Great Race has real wood panels so it's earlier in production. It also has a rare wooden luggage rack up on top.