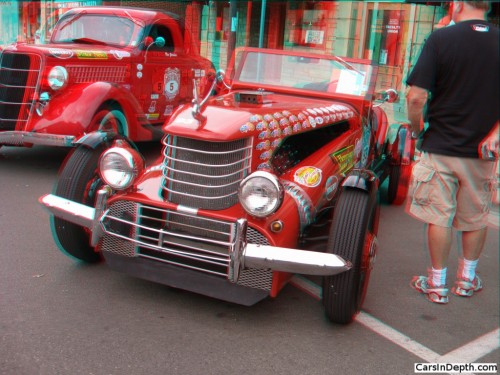 To view the entire photo gallery in your choice of 2D or stereo 3D formats, click here for a Flash player or here for an HTML applet
I'm not sure what to call it. I suppose it's a speedster of some kind, that's what it's called on the entry list for the 2012 Great Race, but it's not a traditional speedster, there's way too much custom bodywork for that sort of thing so I think I'll call this a "period custom". It's owned by Guy Mace, though I have no idea who did the customization. It looks to be influenced by Edsel Ford's famous 1934 Ford speedster that Bob Gregoire designed so I'm guessing that the bodywork dates to the late 1930s.
Video after the jump.
Start the YouTube 3D video player. Click on the red 3D icon in the menu bar to select 2D or your choice of stereo 3D formats.