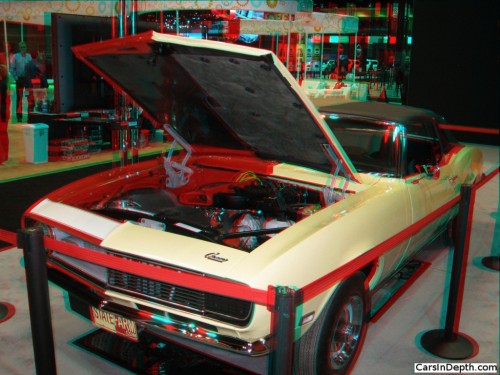 To view the entire photo gallery in your choice of 2D or stereo 3D formats, click here for a Flash player or here for an HTML applet
Call it a car with a split personality, or as Jay Leno puts it in the video below, a crossdresser, but there's a method to the madness of State Farm insurance company's Jekyll & Hyde 1968 Camaro. They use it to educate State Farm agents about vintage cars and the difference between original equipment and customization or restomods. One side of the car is completely stock, the other side has been modified. The concept is carried out even under the hood as the stock side of the engine has cast iron heads and the restomod side has an aluminum head. That might make the car run funny, that is, if they ran it. Though theoretically the car is functional, to prevent issues from safety and regulatory nannies the car is void of fluids so they can take it into any building.
One clue that Camaro spotters use is the grille. The stock, driver's side of the car has a RS style grille with hidden headlights, while the custom side has the exposed lights of an SS grille. That side also sports half a SS badge, which normally mounts right in the middle of the grille. Of course there are differences between stock cars so, for example, there are different wheel and tire packages for the front and back of the stock side. The insurance company says that one reason for making this Camaro is that it's easier to transport one car around the company than two. Also, State Farm is obviously using it as a publicity stunt, not just an educational tool. These photos were taken at the 2011 Chicago Auto Show press preview and State Farm took the Camaro over to the Big Dog Garage so Jay Leno could check it out (and publicize it).