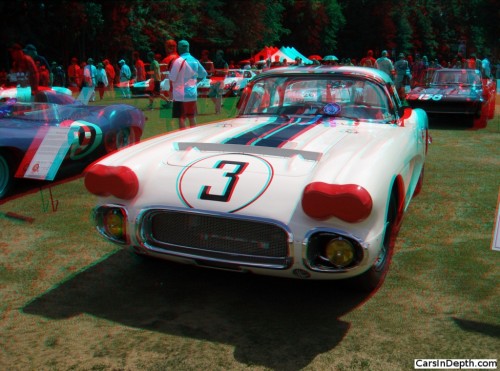 To view the entire photo gallery in your choice of 2D or stereo 3D formats, click here for a Flash player or here for an HTML applet
Any one of John Fitch's many accomplishments would have made him a man worthy of note. As a race car driver, he was the SCCA's first national champion in 1951 and had race wins driving for the Mercedes Benz factory team and for Briggs Cunningham. After the Corvette got the new small block Chevy V8 engine in 1955, Chevrolet's chief engineer Ed Cole asked Fitch to make the boulevard cruiser into a credible sports car racer, managing its early racing efforts.
Again racing for Cunningham, in 1960 Fitch drove the #3 Corvette to a class win at LeMans. Fitch, though, was more than merely a successful sports car driver. An engineer by education, after his racing career he also saved countless lives by designing the Fitch Barrier, an installation of plastic barrels filled with sand or water which prevent drivers from head on collisions with things like bridge abutments. He also sold modified Corvairs along the lines of Yenko's cars.
Before his racing career he was a war hero, flying a P-51 Mustang in combat during WWII, shooting down a German ME-262 jet fighter late in the war and becoming a POW after getting shot down himself. Fitch passed away this week at the full age of 95.
Corvettes At Carlisle show founder Chris Miller had a dream to find the Cunningham-Fitch LeMans Corvette. He found the car but sadly died of a rare disease before he could complete the restoration. Miller's son Lance fulfilled his father's dream by finishing the restoration and taking it to LeMans where it was reunited with Fitch during the festivities for the 2010 race, the 60th anniversary of the car's class win. The photos here were taken at the 2012 Concours of America, part of a class devoted to racing Corvettes and Jaguars.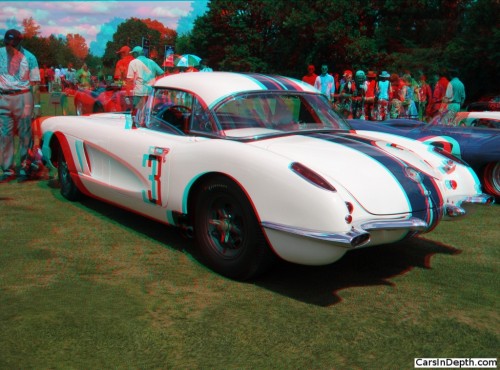 To view the entire photo gallery in your choice of 2D or stereo 3D formats, click here for a Flash player or here for an HTML applet