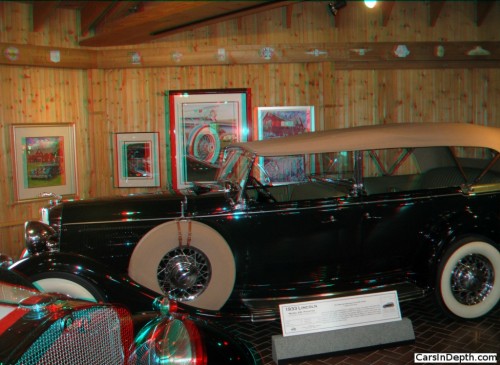 To view the entire photo gallery in your choice of 2D or stereo 3D formats, click here for a Flash player or here for an HTML applet
In the late 1920s and early 1930s it became de rigueur for luxury car makers to offer V12 and in some cases V16 engines. Though more complicated than a V8, the smaller moving parts and geometry of V12 and V16 engines made it easier, with the technology of the era, to have smooth running balanced engines. So Packard, which had earlier made the Twin Six, reintroduced a V12, and it was joined by Lincoln, Pierce Arrow, Franklin and Cadillac. Cadillac also introduced, almost simultaneously with its V12, a V16. Eventually, in 1933, Lincoln went to exclusively V12 engines. In 1933, during the height of the depression Lincoln sold just 533 Model KB cars, which were available in 26 body styles from 17 different coachbuilders. Only 9 customers opted for the dual cowl phaeton. With so many people out of work, perhaps arriving in style seemed ostentatious. The 1933 model year was the last time Lincoln offered fully open cars in their catalog, though they continued to be available on special order.  This '33 Lincoln KB is on display at the Gilmore museum north of Kalamazoo. Lincoln reflected Edsel Ford's aesthetic sense. He liked cars that looked sporting and the Model KB has a rakish line that you don't see with some of the other luxury brands.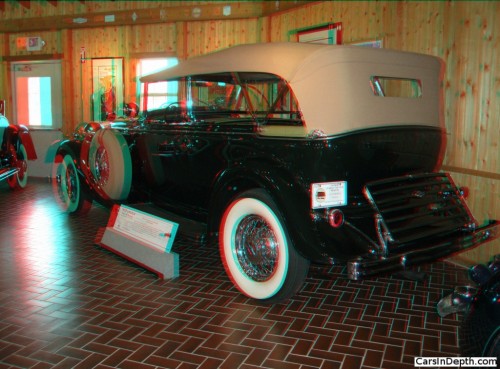 To view the entire photo gallery in your choice of 2D or stereo 3D formats, click here for a Flash player or here for an HTML applet
In 2008, another 1933 Lincoln KB Dual Cowl Phaeton sold for $242,000 at a RM Auction in Hershey, PA. Below the jump is information on this model and the history of Lincoln from the auction catalog.
Body Style 252-A. 150bhp, 447.9 cu. in. L-head V12 engine, three-speed manual transmission, solid front axle and live rear axle with semi-elliptic leaf springs, four-wheel power-assisted mechanical brakes. Wheelbase: 145″

The Lincoln Motor Company had a circuitous history. Founded by Henry Martyn Leland during World War I to build aero engines, Lincoln was his catharsis after arguing with Billy Durant about war work at Cadillac, Leland's first automotive company. Named for the first president for whom the "Master of Precision" had voted after achieving his majority, the company was launched in 1917. The aero business, however, was brief, as war's end led to cancelled contracts and an idle workforce. Leland then decided to do what he knew best: build automobiles.

The first Lincoln cars appeared in September 1920 and were given an enthusiastic reception by the press. There was a single model, designated "L," but two wheelbases, 130 and 136 inches. The engine was a 60-degree V8 of 357.8 cubic inch displacement with "fork-and-blade" connecting rods, which allowed cylinders to be directly opposite one another. Prices ranged from $4,000 for chassis only to $6,600 for a town car, about the same as his former company, and new rival, Cadillac.

Slow production, partly a result of Leland's obsession with perfection, combined with a nationwide recession, soon put Lincoln into receivership. Rescue came, however, in the person of Henry Ford, who purchased Lincoln Motor Company for eight million dollars in 1922. Lincoln became the flagship of Ford's automotive empire, its fortunes entrusted largely to Henry's son Edsel. Lincoln's sales were never immense, but its prestigious image was an asset, particularly after Edsel's fine eye for design had its way with the "perpendicular" themes Leland had imposed on his cars.

Edsel Ford was an aesthete, and had developed relationships with the prominent coachbuilders of the day: Locke, Willoughby, LeBaron and Brunn, the last of which had already established a Lincoln relationship in the Leland days. Through 1928, most Lincoln open cars were bodied by Locke or Brunn. In 1929, some coachwork was taken in-house to Lincoln's own shops, in particular the handsome Style 176 phaetons, available both with and without the tonneau cowl and windshield. Similar bodies were available in succeeding years.

The 1920s had also been a time of mechanical improvement at Lincoln. Four wheel brakes, initially fitted for police service, were adopted across the board in 1927. For 1928, the engine was bored out to 385 cubic inches, which, with larger valves and higher compression, improved its torque characteristics. Rubber engine mounts were added in 1929 to reduce vibration and the brakes were changed to the internal-expanding type, with cooling fins added to the rear drums.

In 1931 came a new model, the K. A cruciform-braced chassis frame had a wheelbase of 145 inches and allowed a much lower stance. A new peaked radiator and longer hood combined with more flowing fenders to give the car a more graceful, streamlined look. Underneath, synchromesh and free-wheeling were added to the transmission, and cable-operated Bendix Duo-Servo brakes were adopted. The engine, too, was new, with five main bearings. Although it had exactly the same displacement as its predecessor, higher compression and better manifolding netted a third more horsepower.

For 1932, Lincoln took a page from the Cadillac playbook and introduced a V12 engine in the new KB model. But where Cadillac's was a 45-degree overhead valve unit of 368 cubic inches making 135 brake horsepower, Lincoln went for a 65-degree L-head displacing 447.9 cubic inches. It weighed half a ton and developed 150 brake horsepower. In a final nod to Henry Leland it used fork-and-blade connecting rods, though it would be the last Lincoln engine to do so. For one final season the V8 returned, as a Model KA on the short 136-inch wheelbase used in 1930.

Lincoln fully committed itself to twelve-cylinder power in 1933. A new "small" V12, displacing 382 cubic inches and abandoning Lincoln's hallmark fork-and-blade rods, replaced the V8 in the KA, Lincoln's entry-level car. KBs kept the 447.9 cubic inch fork-and-blade engine, but adopted a new cruciform double-drop chassis frame. New vacuum booster brakes were fitted, with adjustable assist. The shock absorbers gained thermostatic control to compensate for various weather conditions. The transmission was redesigned and free-wheeling was made optional.

The radiator shell was given a rearward slope, with grillework over thermostatically-controlled shutters. The handsome exposed horns of earlier models were now hidden behind the grille and the headlights were given a new shape and made free standing. Late in January, acknowledging the influence of Packard and Cadillac, Lincoln introduced skirted fenders. Dealers were instructed to update cars still in stock with the new style, and to exchange fenders free of charge on cars already delivered, should customers request it.

Although the 1933 catalog contained 26 KB body styles, 17 from custom coachbuilders, only 533 cars were delivered, some styles selling in single-digit quantities. Among them was the 252-A, the Dual Cowl Phaeton exemplified by the car offered here, one of nine built. These and the companion 252-B model without the tonneau cowl or windshield were the last fully-open cars in the Lincoln catalog. In succeeding years they were available only by special order.

1933 was not Lincoln's worst year (1935 would prove worse), but was sufficiently dire that discussions about a "baby Lincoln," what would ultimately become the Lincoln-Zephyr, were initiated by Edsel Ford.