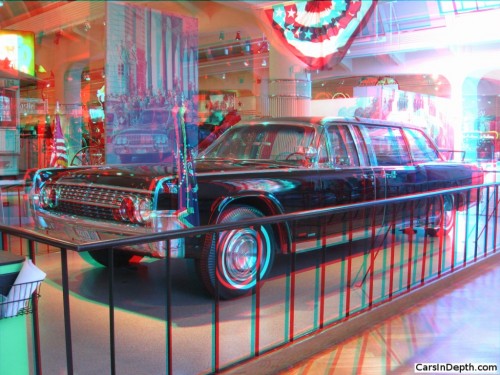 To view the entire photo gallery in your choice of 2D or stereo 3D formats, click here for a Flash player or here for a HTML applet
On this date, 49 years ago, President John F. Kennedy was assassinated while riding in a motorcade in Dallas, Texas. In recent years, cars associated with President Kennedy have come to auction, including a Pontiac ambulance of dubious provenance. The provenance of this car, the presidential limousine in which he was shot, is as far from dubious as you can get, that is, assuming that we can trust what the Secret Service says. Seriously, though, after the assassination, the presidential limousine, known as X-100, underwent a couple of revisions and was used by Presidents Johnson, Nixon, Ford and Carter before it was retired in 1977 and donated to the Henry Ford Museum, where it is on display with other presidential limousines, going back to Teddy Roosevelt's horse drawn brougham.
More information on the Kennedy presidential limo is at the Henry Ford Museum's web site.