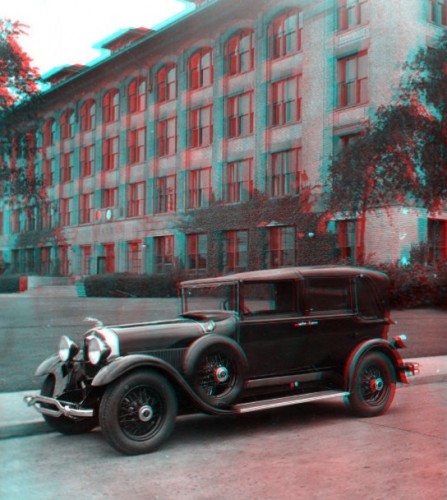 To view the entire photo gallery in your choice of 2D or stereo 3D formats, click here for a Flash player or here for a HTML applet
Going through the Keystone-Mast Collection at the Online California Archive I found this classic era Lincoln with a brougham body by Brunn, photographed in late 1930 in front of the old Lincoln headquarters and factory on Warren in Detroit. That's where Henry Leland build Liberty engines during World War One and from where Henry Ford had Leland and his son walked out of the building after Ford took control of Lincoln in 1922. Ford hated Leland who started both Cadillac and Lincoln. It wasn't because of Lincoln but rather Cadillac.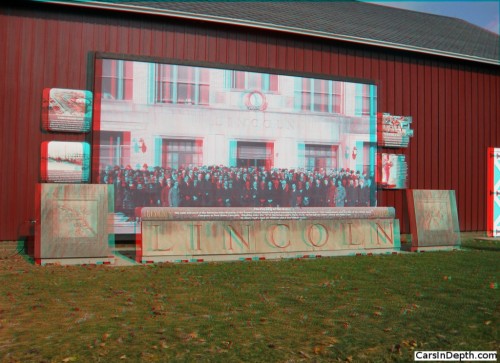 To view the entire photo gallery in your choice of 2D or stereo 3D formats, click here for a Flash player or here for a HTML applet
Before leaving General Motors over a dispute with Billy Durant over making those same Liberty engines, Leland ran Cadillac. Durant, like Henry Ford, was a pacifist, but unlike Durant, Ford didn't let his personal pacifism get in the way of making money building war materiel – the Ford Rouge complex first was built to construct ships for the U.S. Navy. So anyway Leland started Cadillac in 1902. He'd been running Leland & Faulconer, Detroit's finest machine shop, and was supplying components like engines and transmissions to  nascent auto industrialists such as Ransom E. Olds. Henry Ford's second automotive venture (the third time was the charm), the Henry Ford Company, was struggling financially and his backers wanted to liquidate the company. They hired Leland to appraise the company's assets. At the time he'd just finished work on an engine he was hoping to sell to Olds. Instead he convinced Ford's backers to use that company and his own engine to build a new car, Cadillac. So Ford hated Leland.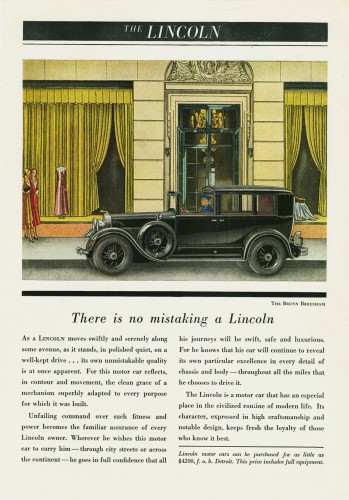 After building Liberty engines, Leland used Lincoln to do what he'd wanted to do in the first place, build luxury cars. Unfortunately he too ran into financial difficulties following the recession of 1920. It's generally considered that Henry Ford bought Lincoln to keep his son Edsel occupied and in time Edsel did use Lincoln to help invent automotive styling as we know it, but in 1922, Henry also wanted to get back at Leland. His first offer for Lincoln was turned down by the bankruptcy court as unreasonably low. Eventually Ford paid $8 million for Lincoln. He kept Leland and Leland's son on for a bit, but effectively stripped them of power. After a few months, Ford had them walked out of the building, the same building in the stereogram above.
When that building was torn down in 2005, a group of classic Lincoln enthusiasts, the Lincoln Motor Car Foundation, salvaged the stone facing reading "LINCOLN". It's on display at the Gilmore museum in Hickory Corners, Michigan, along with an almost life size print of the ceremony in 1922 when Ford bought Lincoln.
Keystone-Mast Collection, UCR/California Museum of Photography, University of California at Riverside. Please contact UCR/California Museum of Photography for information about the copyright status of this item. Some materials in these collections may be protected by the U.S. Copyright Law (Title 17, U.S.C.). In addition, the reproduction, and/or commercial use, of some materials may be restricted by gift or purchase agreements, donor restrictions, privacy and publicity rights, licensing agreement(s), and/or trademark rights. Distribution or reproduction of materials protected by copyright beyond that allowed by fair use requires the written permission of the copyright owners. To the extent other restrictions apply, permission for distribution or reproduction from the applicable rights holder is also required. Responsibility for obtaining permissions, and for any use rests exclusively with the user.