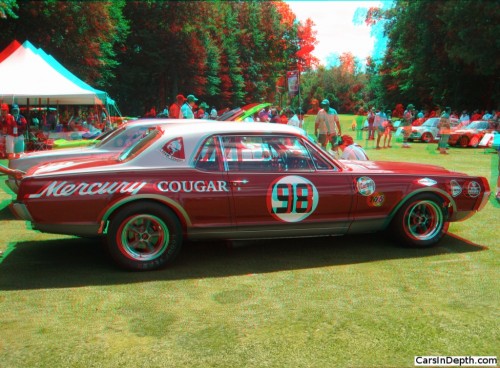 To view the entire photo gallery in your choice of 2D or stereo 3D formats, click here for a Flash player or here for a HTML applet
All other things being equal, provenance is ultimately what distinguishes one collectible from another almost identical item. If that's the case, this restored racecar from the fondly remembered Trans Am series of the late 1960s has a very distinguished provenance. On display at the 2012 Concours of America, this 1967 Mercury Cougar was owned and prepared by the great team owner Bud Moore and driven by none other than all-American racer, Dan Gurney. NASCAR legend Dewayne "Tiny" Lund later drove the car in NASCAR's Grand Touring series. Gurney's teammates were Parnelli Jones and Peter Revson. Cale Yarborough also drove the #98 Cougar in the '67 Trans Am series for the race at Upper Marlboro, MD. In addition to being an authentic vintage racer driven by a racing legend, this Cougar also has the distinction of actually winning a race with Gurney at the wheel, at Green Valley Raceway in Texas. Gurney had started the season driving #16, but for the Green Valley race he switched to #98. Jones, in #15, finished in second place, just 3 feet behind, for a 1-2 Cougar finish and the closest finish in Trans Am history. Considering that Moore was pretty much a road racing novice the team's success that year was quite an accomplishment, winning four races that season and coming in second in the championship to the Ford Mustang, a championship that came down to the end of the last race of the year. The #98 Trans Am Cougar is currently owned by the Larry H Miller dealership group and it won best in class at the concours.
Looking for more info on the car I came across this Glory Days video hosted by Wind Tunnel's Dave Despain (when he had a little bit more hair) on the Cougar Trans Am team in 1967. You can see #98 win that race starting at 1:30 of part 2 (arts 2 and 3 are after the jump). People tend to associate Trans Am with American muscle cars, but the series had more than one class and there were plenty of foreign cars in the series. Watching the video I noticed a Mini Cooper and what I'm pretty sure was a Lotus Cortina in the '67 Daytona race. There's also an early Porsche 911. Though TA is associated with American pony cars, we generally associate Bob Tullius' #44 with British cars. However, in the early days of Trans Am he raced a Dodge Dart, which actually won the season opener at Daytona. You can also get a view of the late Carroll Shelby in his signature cowboy hat managing the Ford Mustang team which won the championship, Trans Am then being strictly a manufacturers championship.