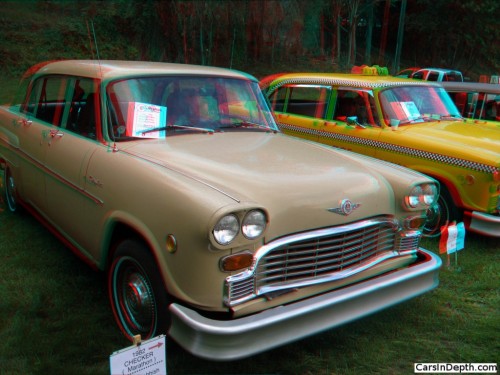 To view the entire photo gallery in your choice of 2D or stereo 3D formats, click here for a Flash player or here for an HTML applet
The Checker A8/Marathon was in production, relatively unchanged, from 1956 to 1982. Everybody loves the boxy '50s style R. Crumb looking yellow taxicabs, but the Checker Motor Corp. itself had a pretty interesting history, including the firebombing of the home of Checker founder Morris Markin during a taxicab fare war in the early 1920s prompting the relocation of the company and the Markin family to Kalamazoo. Markin's business model involved vertical integration, so in addition to assembling purpose built taxicabs, he acquired and owned the Checker Cab company and a number of other cab companies. Speaking of another form of integration, Checker was the first taxicab company to hire African American cabbies and all of its drivers were instructed to not discriminate in picking up fares. One interesting factoid about the Checker is that it's a bit of a cousin to the American automotive trinity of Auburn, Cord and Duesenberg since Markin lost control of Checker to E.L. Cord from 1933 to 1936. This 1982 Marathon represents the last year that Checker built cars and it was photographed at the 2012 Orphan Car Show in Ypsilanti. The Kalamazoo based company could not compete with the low fleet prices that the Big 3 automakers were offering to cab companies.
Start the YouTube 3D video player. Click on the red 3D icon in the menu bar to select 2D or your choice of stereo 3D formats.