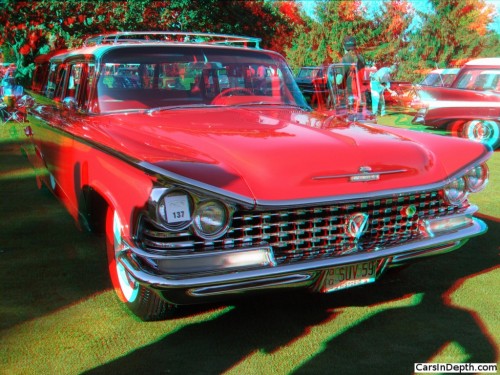 To view the entire photo gallery in your choice of 2D or stereo 3D formats, click here for a Flash player or here for an HTML applet
When the 1983 movie, National Lampoon's Vacation, was made, the Griswold family's Wagon Queen Family Truckster was lampooning a bit of Americana that was already on its way out. Clark Griswold may have traded in his Oldsmobile Vista Cruiser on another wagon, but a year after that movie was made, Chrysler introduced their segment creating and hugely successful minivans. Once America's soccer moms discovered the practicality and high driving position of the minivan, they abandoned station wagons in droves. Of course since then, many of those same women (and their daughters who are now moms themselves) have moved on to SUVs and now crossovers, so minivans aren't quite as popular with women who'd now rather be seen as MILFs instead of as soccer moms. One thing that apparently hasn't happened is a revival of the great American station wagon.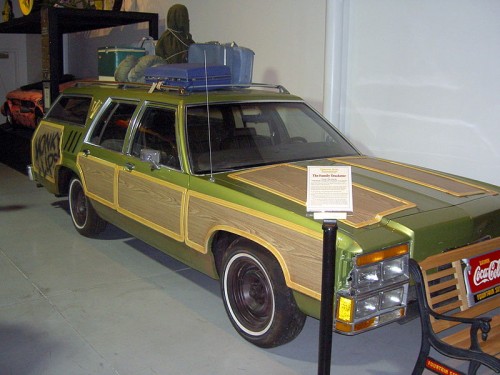 The Griswold's Wagon Queen Family Truckster
What was once the staple of suburbia has virtually disappeared from the American automotive landscape. At the same time, though, that station wagons have gone from popular to declasse, wagons have gained a community of the faithful among car enthusiasts. If you wanted to build a car to appeal to, let's say, your average automotive writer, it would be a stylish station wagon, a wagon with a powerful engine, that and a stick shift too. Actually, a car company went to the trouble of building that exact car, it's called the Cadillac CTS-V Sportwagon. Because of the existence of the CTS-V in sedan and coupe form, it's been said by people who know these things that the break even point on the CTS-V wagon was less than 10 cars. Since a few of the CTS-V wagons ended up as "long term test cars" for some automotive publications, it's not much of a stretch to say that the CTS-V in longroof format was indeed made just for the autojournos. Lucky for Cadillac's media relations folks that they had a Caddy wagon to work with. In any form, V or not, the CTS wagon is the only station wagon that General Motors currently sells in the United States. Think about that for a second.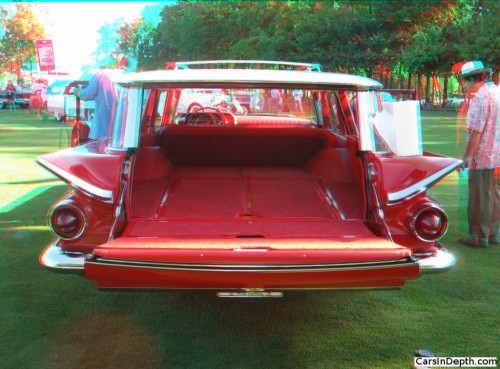 To view the entire photo gallery in your choice of 2D or stereo 3D formats, click here for a Flash player or here for an HTML applet
So while current consumers in the US aren't flocking to buy station wagons, those cars do have a following among enthusiasts. That's why it shouldn't be surprising that the Concours of America this past summer had Jet Age Station Wagons as a judged class. They represented the years 1957 to 1960, when American exuberance was at its greatest. To be honest, I think some of the ugliest cars ever made were from 1958 and 1959. Something must have been in the water in Detroit when they were drawing those cars, but the appeal of a wagons' proportions manages to even make cars from that era visually pleasing. We'll be featuring the wagons from the concours over the next few days, starting with this 1959 Buick LeSabre.
Buick liked the name Wildcat and Buick styling in the late 1950s was nothing if not wild. Inspired by Chuck Jordan's Centurion show car with its horizontal tail fins/wings, Buicks started looking pretty aggressive. Frankly, I'm surprised that Steven King went with a Plymouth for Christine because the Forward Look Mopars look positively benign next to the squinty eyed look of the slanted quad headlamps.