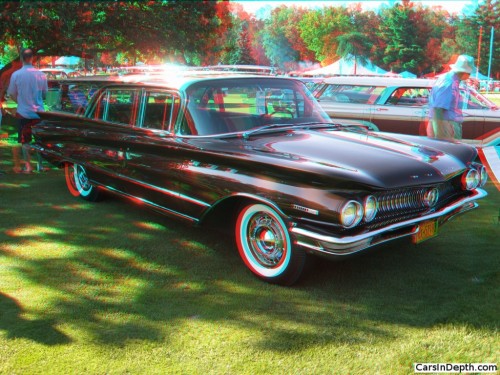 To view the entire photo gallery in your choice of 2D or stereo 3D formats, click here for a Flash player or here for an HTML applet
The Invicta model replaced the Century in Buick's lineup for 1959. Following the same formula, an engine from their largest cars in a slightly smaller package, the Invicta was marketed as "the most spirited Buick" in between the LeSabre and the Electra. It had a 455 ft lb version of the Buick 401 "Nailhead" V8. The Custom trim line for the Invicta was introduced during the 1960 model year, in part to give Buick a model to compete with the Ford Thunderbird, by then a four seater. Invicta Custom sedans came with leather covered bucket seats. Invicta Custom wagons had buckets too but they were a bit different.
Based on the Buick Texan show car from 1959, the Invicta Custom wagon had a western themed interior with longhorn emblems on the door panels, and a cordovan and buckskin color scheme, and it was GM's most expensive wagon for 1960. The aggressive styling of the '59s was toned down a bit. The 'angry' angled headlights were made horizontal and though the "Delta Wing" fins were retained, they were less extreme, as the fins were on most GM cars for 1960. Found in a Pennsylvania junkyard and the subject of a 20 year restoration this was one of only 297 built, and one of only six known to exist.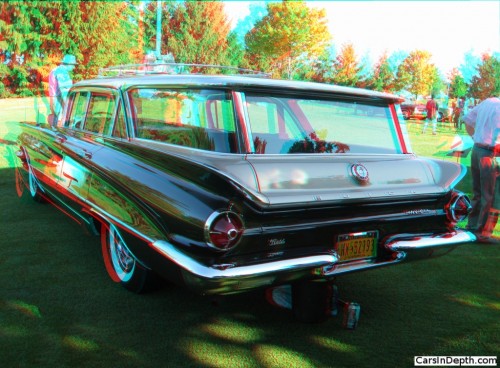 To view the entire photo gallery in your choice of 2D or stereo 3D formats, click here for a Flash player or here for an HTML applet