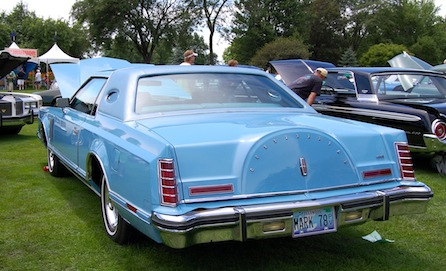 This may be the nicest, lowest mileage Lincoln Mark on the planet.  I ran across it at Bloomington Gold's "Survivor Car Show" in St. Charles, Ill., last summer.  Bloomington Gold has developed a multi-point judging standard for "original" cars and will inspect and authenticate such cars for owners.  It also sponsors the Survivor Car Show for owners to show off their prized possessions.
This 1978 Mark V, owned by an Illinois collector, was on display at last summer's event and  has just 2,400 miles on the odometer.  It has never been restored in any way and  is about as close to brand new condition as any car I've ever seen outside a showroom.  Of course, the charm of such a low mileage car is the low mileage and the owner says that the only time he takes it out of storage is to bring it to this show.
This year's show will be held Sunday June 26 at the Pheasant Run Resort in St. Charles, Ill.