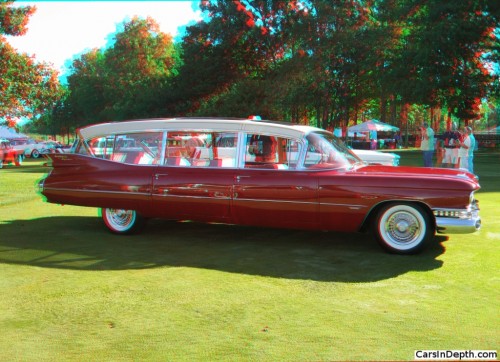 To view the entire photo gallery in your choice of 2D or stereo 3D formats, click here for a Flash player or here for an HTML applet
Spencer Penrose was a Philadelphia businessman and land speculator who made a fortune trading mining claims near Cripple Creek, Colorado. After a grand tour of Europe he decided to build the Broadmoor Hotel in Colorado Springs to rival the fanciest continental hotels. Attracted by nearby Pikes Peak and the healthy mountain air, the resort became a favorite with the affluent. Still operating today, the Broadmoor has been rated at 5 stars by Forbes and 5 diamonds by the AAA. Resort hotels have long purchased depot hacks and other station wagons to transport guests arriving by train or plane. In the 1950s, the Broadmoor commissioned a series of Cadillac based station wagons with clear roofs to be used for VIP transport and for sightseeing. Originally using 1955 and 1956 observation coaches made by S&S, the limousine and hearse company, when it came time to replace those cars, the Broadmoor turned to the Superior Coach company of Lima, Ohio. Superior decided to use the chassis and body shell of their production professional cars, their Superior ambulance and Royale hearses.
The '59 Superior cars' body lines are familiar since it was a 1959 Superior ambulance that was used to create the Ectomobile for the Ghostbusters movies. The long 156 inch wheelbase and 251 inch overall length allowed up to 12 passengers including the driver, since the Skyview has four ample leather covered bench seats, though in use it more typically carried 8 hotel guests and their luggage, under a roof with clear acrylic panels, the better to see the Rockies with. A total of six Broadmoor Skyviews were made by Superior. I don't know how many survive. There's one in a Colorado Springs collection called Club Auto that's featured in the posted video and one in need of restoration on Flickr. This particular '59 Broadmoor Skyview was photographed at the 2012 Concours of America at St. John's, its first public showing after a 2005 restoration. Many people consider the 1959 Cadillac, with its massive tail fins and completely over the top styling, to be the ultimate American land yacht. I think that the Broadmoor Skyview are the maximum '59 Cadillac. This is a car that would be impossible to drive without a smile on your face.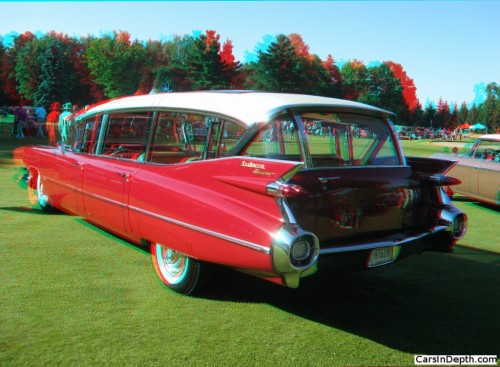 To view the entire photo gallery in your choice of 2D or stereo 3D formats, click here for a Flash player or here for an HTML applet