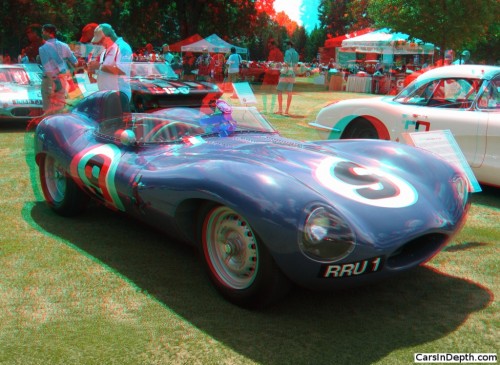 To view the entire photo gallery in your choice of 2D or stereo 3D formats, click here for a Flash player or here for an HTML applet
One simple reason why you should go to a concours d'elegance like the ones at Pebble Beach, Amelia Island or the Concours of America at St. John's (formerly at Meadow Brook) is that you'll see cars that you might otherwise only see in books, or if you're lucky, a museum. I love car museums but let's face it, cars were not designed to sit indoors in a museum. So getting a chance to see a great car in the great outdoors on a sunny day is always going to be nicer than even in the finest museum. Also, with many car museums it's difficult to be able to get 360 degree access to the car, and in any large room, getting good lighting when photographing cars is problematic. Of course shooting in bright sunlight has its own drawbacks. There is a reason why cinematographers prefer the "golden light" of early morning and late afternoon, but all things being equal, you can see (and shoot) cars better at an outdoor show than you can in a museum or convention center. Also, if you're lucky, you just might get a chance to see the cars actually being driven, even if only to and from their trailers in the parking lot. You might even get to hear the engine roar a couple of times.
One of the featured classes at this year's Concours of America was racing Jaguars and Corvettes, a rivalry that goes back more than half a century. I expected to see some special 'Vettes and Jags but at a great concours, there are going to be some cars that are very rare. How often do you see a Jaguar D-Type outside of a book or a website? A revolutionary car at the time, with inboard disc brakes, Malcolm Sayer's gorgeous aerodynamic aluminum monocoque body (with a front tube subframe) that led directly to the sexy E-Type (only with that glorious stabilizing fin) and Jaguar's legendary twin cam inline six, the D-Type dominated at LeMans, winning the 24 hour race back to back to back in 1955, 1956 and 1957. For LeMans the factory cars were fitted with a longer, even more aerodynamic, nose, but the shortnose cars are more common.
Common is a relative term. D-Types are actually quite rare. Wikipedia says there were 18 factory racers, 53 customer raced cars, and another 16 that were turned into XKSS models with the additional street equipment required for North American racing after Jaguar withdrew from factory racing. Another source says that the car pictured here on display at the 2012 Concours of America, chassis #XD-515, was the 15th of only 42 made. Either way, D-Type Jaguars are not likely to be seen at your average car show. If you do see one, it's likely to be a replica as there are a number of firms that make reproductions (here, here and here). This D-Type is no replica. Though raced, unlike most D-Types it had remained in factory condition for the 14,000 miles it had on the odometer when discovered as a barn find in 1989. A "sympathetic" restoration followed, and because of its unmodified condition, XD-515 is considered to be one of the best examples of a shortnose D Type. This D-Type is the real deal with a capital D.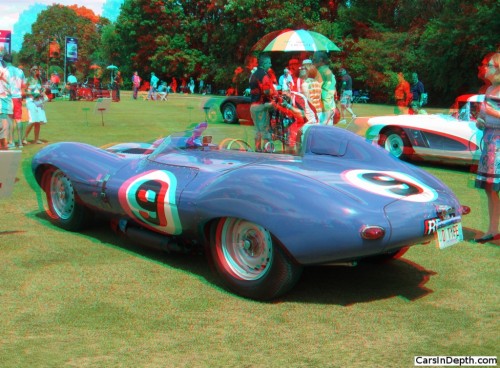 To view the entire photo gallery in your choice of 2D or stereo 3D formats, click here for a Flash player or here for an HTML applet