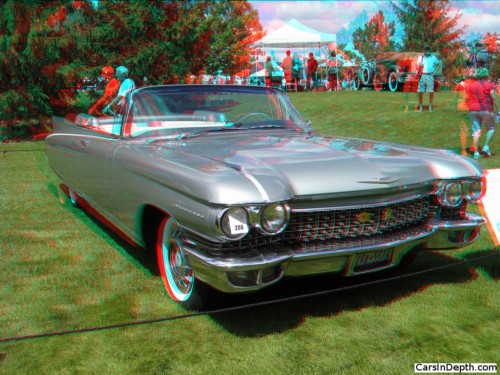 To view the entire photo gallery in your choice of 2D or stereo 3D formats, click here for a Flash player or here for an HTML applet
In the summer of 1956, Chuck Jordan, who headed Cadillac design, had spotted some early production versions of the new Forward Look Mopars sitting in a Chrysler storage lot in Detroit. Jordan knew that compared to the '57 Chrysler products, the 1959 GM models he was then working on looked stodgy and old fashioned. Harley Earl, GM styling head, was in Europe at the time which allowed Jordan and Bill Mitchell to get enough support from GM upper management to present Earl with a fait accompli when he returned. Cadillac designer Dave Holls gives his version of how the 1959 and 1960 Cadillacs came about.
"We all took our turn inspecting the '57 Chryslers through a chain-link fence. Even though we had finished our '59 designs, we returned to the studio and started all-new programs.

"We thought the Chrysler thing – razor-thin roofs, sweeping fins, high integrated bumpers – was fantastic. It was everything we'd been sketching but not doing. While Harley Earl was traveling, every GM studio immediately started working on a new car. Our pudgy, fat '57 cars had been face-lifted for '58 by throwing chrome at them. We hated the cars that defined Earl's last gasp. He had a wonderful sense of direction throughout his career, but that last year [Earl retired in 1958], he didn't know.

"The '59s were overdesigned in that they were flamboyant, but we certainly didn't think so at the time. They had to be good to surpass Chrysler's Forward Look. Everyone at GM styling did their damnedest to make a wild new car.

"Earl had a difficult time with this new direction, although he acknowledged that Chrysler had stumbled onto something. A week after he returned from his trip, he came into the studios to be a part of what was going on."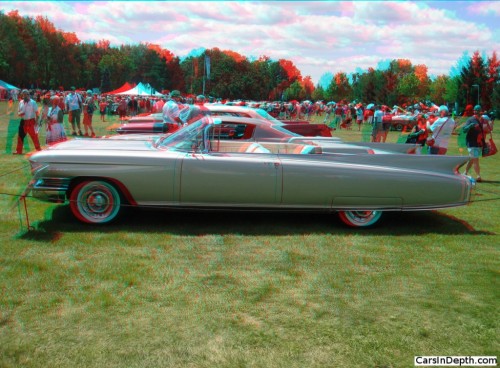 To view the entire photo gallery in your choice of 2D or stereo 3D formats, click here for a Flash player or here for an HTML applet
They may be iconic symbols of American exceptionalism today, but when Cadillac dealers were introduced to the wild new overdesigned 1959 cars, they were not happy. The cars were that much over the top. When you consider how "overstyling" was the word in Detroit in 1959, how many garish and, frankly, ugly cars came out of the Motor City in '58 and '59 that says something about how far over the top the '59 Caddies were. Management reacted by asking the design staff to tone things down. The result was a car that still says wretched excess, but it does so in a more understated tone. For the first time in over a decade, a new Cadillac had smaller fins than the one it replaced. I think it the '60 Caddy looks great and this Eldorado is a great example. I particularly like the contrasting stripe, surrounded by chrome trim, that sweeps from the base of the windshield back around the fuselage shaped flank of the car and then forward again along the fender skirt and rocker panel. By 1960, two-tone paint was going out of style, but it's a nice touch and I believe that it's one of the things that distinguishes a '60 Eldo from a regular DeVille convertible, more or less the same car.
"Cadillac's general manager, James Roche, encouraged us to make sure the 1960 models were in better taste."

"We took Roche at his word. The '60 Cadillac has my favorite set of fins and is prettier than the '59. Lowering the height of the fins and raising the rear fenders' upper surfaces made a dramatic difference. Thin taillamps replaced the twin rocket pods. Round lamps within the bumper ends were designed to shine forward as well as back to illuminate the whole polished-stainless-steel pan that surrounds them.

"At the front, we eliminated the center bumper blade. While everyone in the studio thought the grille bullets were too Buck Rogers, Earl and the division liked that treatment. All things considered, the 1960 Cadillac was a cleaner design and a nicer car."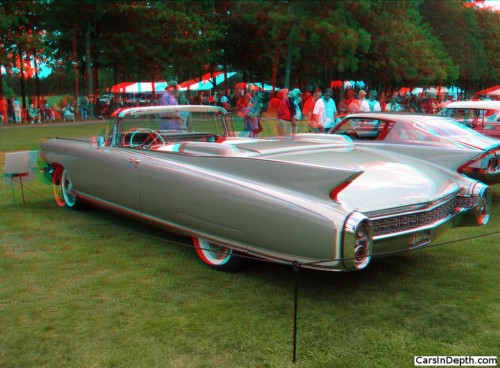 To view the entire photo gallery in your choice of 2D or stereo 3D formats, click here for a Flash player or here for an HTML applet