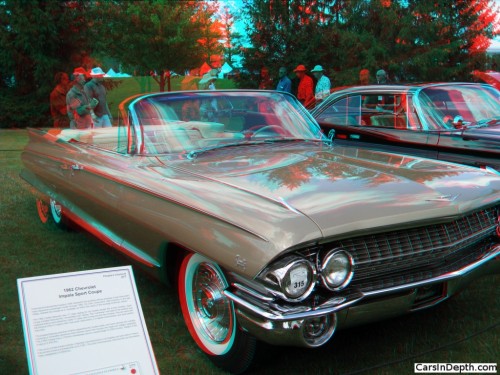 To view the entire photo gallery in your choice of 2D or stereo 3D formats, click here for a Flash player or here for an HTML applet
Designer Chuck Jordan took charged of the Cadillac design studio in early 1958 as work on the 1959 models was wrapping up. He was 31 years old and his chief assistant, Dave Holls, was even younger, 27. Jordan had started out designing trucks but at Bill Mitchell's suggestion, he switched to cars as a career move. Mitchell would succeed Harley Earl later that year when Earl would retire, and the '61 does reflect a move towards the crisp, sharp-edged look that Mitchell favored, but Earl still had a role in its development. Before his retirement, he still had absolute authority at GM design and any early work on the 1961 Cadillac had to have had Earl's approval. The 1961 Cadillacs may have been the first that Chuck Jordan supervised, but he was still under Harley Earl's supervision.
Jordan related the car's devlopment:
"If you were in there designing Cadillacs, that was a big thing. Cadillac was the prestige studio, and I wanted to be sure what we did was significant. The 1959 model was almost finished when I took over as chief designer. The studio had a 14-member team: designers, modelers, and technical people. We got comfortable with each other as we face-lifted the 1960 Cadillac, so we were ready when it came time to start on the 1961."

"The 1961 model would be a clean-sheet design and my first chance to do a brand-new production car. We all recognized it as a great opportunity, so we worked night and day. I mean I worked my tail off, because I believed in that car, and I also had the responsibility. I did a lot of the illustrations at home at night, because there just wasn't time in the studio."

"We felt the 1961 Cadillac ought to be a style leader. Which meant not as heavy-looking as in 1959-1960. It needed to keep the Cadillac elegance, but with more life and more of what I call grace and spirit. At first we got a little too spirited."
Dave Holls points out that the '61 Caddy's distinctive "skegs", the lower body fins, were influenced by two show cars, the Cadillac Cyclone, and the Firebird III turbine powered research and show car. Not only were both of those cars styled under Earl's direction, but Holls says that Earl had a direct supervisory role in the styling of the '61 Cadillac.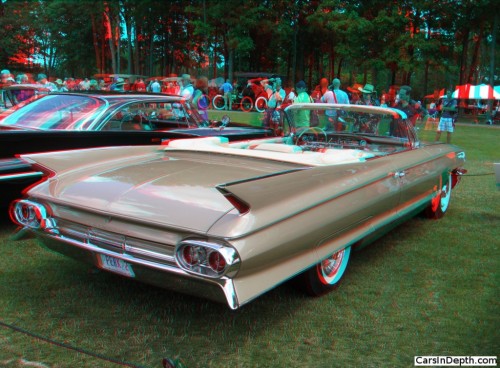 To view the entire photo gallery in your choice of 2D or stereo 3D formats, click here for a Flash player or here for an HTML applet
"We wanted to get off the big fins. Chuck came up with the idea of the skegs, those long, pointy fins along the bottom of the fenders, and those first appeared on the 1960 Brougham. The skegs came partly from the Cadillac Cyclone Motorama show car and partly from the Firebird III gas-turbine experimental, which influenced all of us. At first, we were going to make the skeg dominant on the 1961; the skeg would be the main fin."

"We did all kinds of strange things up at the top of the fender, like little mid-waisted fins and things like that. Tons and tons of my sketches tried to find new ways to do the upper fins, and some versions of the car didn't have upper fins at all. Mr. Earl didn't like that, though, and neither did Bill Mitchell. So eventually we put regular fins back on the car, but the skeg remained in a reduced form."