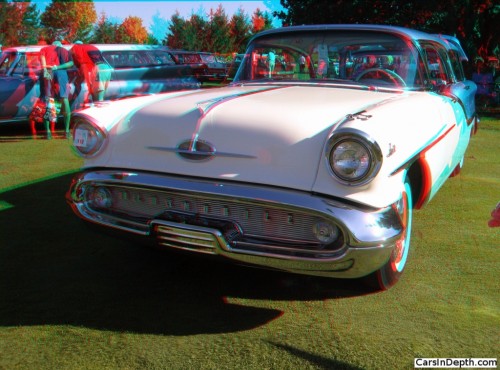 To view the entire photo gallery in your choice of 2D or stereo 3D formats, click here for a Flash player or here for an HTML applet
People with fond memories of Oldsmobile Vista Cruisers of the 1960s and 1970s may find it surprising but Olds didn't even sell station wagons from 1951-56. Perhaps the fact that they reintroduced wagons in 1957 with the Fiesta reflects just how popular longroofs had become during the post WWII baby boom. Oldsmobile sold two different body designs, a pillared roof and a hardtop. The top of the line Olds wagon was the Super 88 Fiesta, a pillarless hardtop.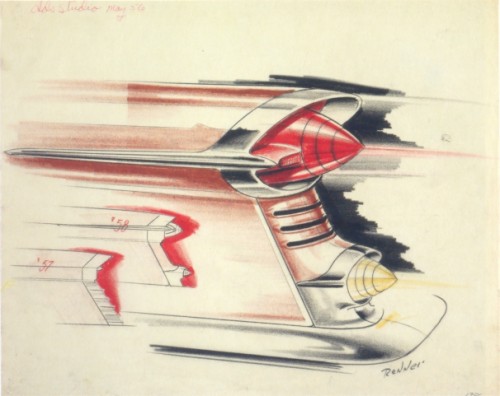 This particular car, displayed at the 2012 Concours of America, was one of about 9,000 Super 88 Fiestas made in 1957. It was discovered in the 1990s as a hot rod by the current owner who started an extensive three-year restoration that was finished in 2010. While shooting the car I recognized the jet-age taillight as being similar to a styling proposal that GM designer Carl Renner drew that is now part of the Jean and Frederic Sharf collection of automotive styling art and was one of the illustrations in Future Retro, Mr. Sharf's book on the topic. The cantilevered rear window is also pretty slick. The late '50s Olds and Buick wagon bodies were not supplied by GM's Fisher Body division but rather by the Ionia Manufacturing company, in Ionia Michigan. Ionia (or its corporate heirs) also made many car companies' woody wagons, the bodies for the first Corvettes and even a production run of Shelby Mustangs.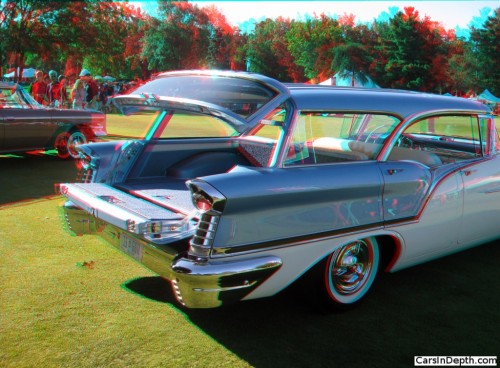 To view the entire photo gallery in your choice of 2D or stereo 3D formats, click here for a Flash player or here for an HTML applet