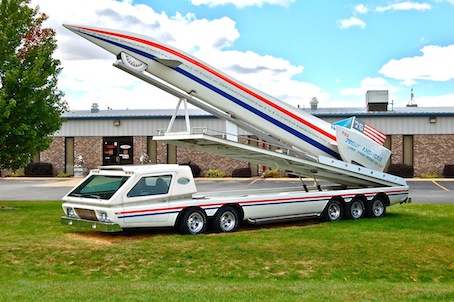 Okay.  So you've got this rocket powered Land Speed Record car, capable (you hope) of breaking all previous records at the Bonneville Salt Flats.  Your problem is getting it to this remote location to make the run.  Your solution?  Make a call to famed hot rodder Dean Moon and ask him to help you design a one-off truck to carry your rocket car.  The result:  The Bonneville Boss transporter.
Inventor/entrepreneur Tony Fox had made his fortune manufacturing commercial trash compactors and promoted his company by sponsoring the Pollution Packer, a record-setting hydrogen peroxide powered dragster.  He and his driver Ky Michaelson had worked up a design for an even faster car dubbed the Proud American.  To raise awareness (and money) for the project they built a full scale mockup and worked with Dean Moon to design and build a truck to carry it.
That truck, the Bonneville Boss, is powered by an Oldsmobile Toronado engine and transaxle driving all four front wheels.  All four front wheels also steer.  The extreme forward cab seats three with the driver's seat in the center position and slightly behind the two passenger seats flanking it.  (Those seats, by the way, are Levi's denim buckets straight out of an AMC Gremlin.  Seriously.)  Unlike the rocket car that sits on top of it, the Bonneville Boss was fully operational.
The Bonneville Boss and the Proud American were built in 1975 with the hope of having an operable dragster ready to make a run during America's Centennial in 1976.  Unfortunately, it never came together and the promotional Boss/Proud American was consigned to storage for some 30 years.  It resurfaced last year and ended up at the Barrett-Jackson auction where it sold for less than $50,000.
This dynamic duo was seen by the side of the road along Metric Drive in Roscoe, Ill., across from Wayne Lensing's Historic Auto Attractions, a museum housing Lensing's quirky collection of automotive and celebrity memorabilia.  Lensing also owns Lefthander Chassis, specializing in tubular racing chassis and components.