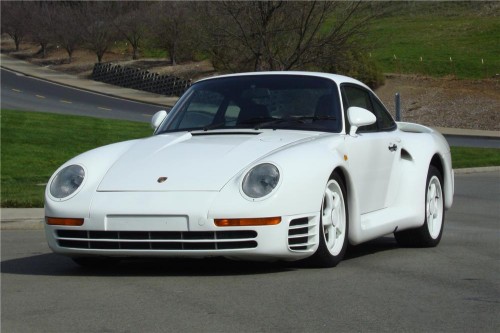 Barrett-Jackson has announced that their upcoming Scottsdale auction will include an incredibly rare factory prototype Porsche 959. The Porsche 959 is considered by many Porsche purists as the ultimate air-cooled Porsche (the 959 had water-cooled heads but still retained the traditional air-cooled engine block). You don't often see them in this country since there were only about 300 made and they weren't certified for sale in the U.S. Wealthy collectors like Jerry Seinfeld and Microsoft's Bill Gates and Paul Allen lobbied for the Show and Display law to be passed, allowing the importation of special interest cars that won't be driven on public roads. So the car is rare to begin with and this particular 959 takes that rarity a step beyond. One of 29 pre-production prototypes based on the 930 Turbo platform, this is one of only four surviving cars, the rest being scrapped by Porsche, of which only two are in running condition.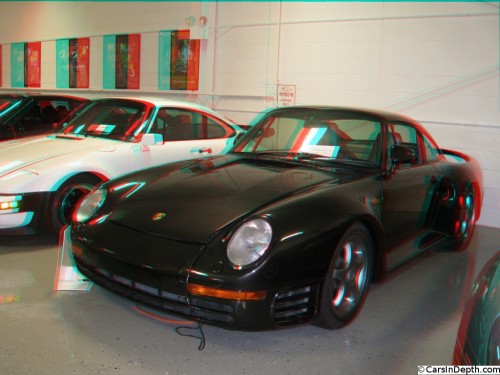 To view the entire photo gallery in your choice of 2D or stereo 3D formats, click here for a Flash player or here for an HTML applet
Most cars that B-J sells are without reserve, though the 959 prototype has one. I expect that to be somewhere north of seven figures. The 959 pictured below is from Ken Lingenfelter's outstanding collection. Car companies have long crushed prototypes – Joe Bortz famously recovered some of GM's Motorama cars from a junkyard, but because of liability and regulatory reasons, many of today's prototypes will never enter to the collectors market. Sure, for publicity reasons (as GM has done with B-J) and Ford did for charity during their centennial celebrations, some prototypes still cross the block but it's an increasingly infrequent occurrence. This is a rare opportunity to buy a rare example of an already rare and desirable high performance car.
Barrett-Jackson catalog description after the jump.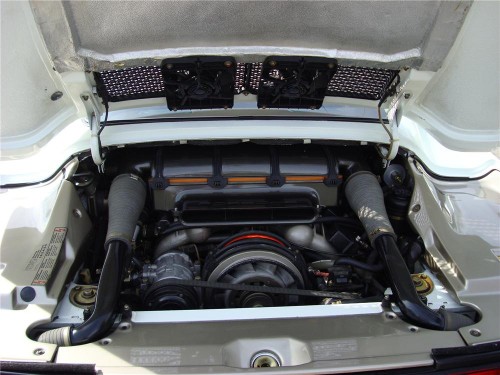 Code V1KOM (EX: BB-PW481) testing car. One of two running prototypes and one of only four survivors. The Porsche 959 is one of the greatest sports cars ever to be assembled and touch the black asphalt which covers the roads on which the 959 is an undisputed champion. The 959 is one of if not the greatest Porsche ever assembled and is just as rare as its title as a world class sports car. In October of 1983, Porsche A.G. announced they will produce 200 Street Version 959s and will sell them to the lucky 200 new owners who are on the Porsche's VIP list. For three years Porsche engineers studied and worked on the 959s prototypes and designs. The street version of the 959 debuted at the 1985 Frankfurt Motor Show as a 1986 model, these were pre-production model carrying the Porsche 930 Turbo chassis numbers. In 1985, Helmut Bott, head of the 959 development, had taken 29 of 1986 model 930 Turbo chassis from the Porsche factory to turn them into the 959 pre-production prototypes and these were called Code F, N and V. These 29 prototypes were the latest prototypes and they were used for various final tests, media coverage, crush tests and road tests. This car is one of the 7 V-series prototypes and it was used as the chassis, ABS development car which was seen at the famous high speed testing facilities like Nardo, Italy and Minerva, France. Sadly most of the 29 prototype 959s were destroyed and scrapped by the Porsche factory after the 959 project had ended, this particular prototype became one of only four surviving and also one of only two running prototypes in existence still wearing its original pre-production Dunlops with its original prototype light weight wheels. All production 959s were delivered with Bridgestone RE71s with production type wheels. With Porsche factory no-longer releasing any prototype automobiles to the public, this is a very rare chance in owning a prototype Porsche. Not only is it a prototype Porsche, it doesn't get any better than owning the 959 prototype. **BUYER EXPRESSLY ACKNOWLEDGES AND AGREES THAT THIS VEHICLE IS A PROTOTYPE AND IS NOT CERTIFIED TO COMPLY WITH ANY FEDERAL, STATE OR LOCAL LAWS, RULES OR REGULATIONS OR FOR REGISTRATION FOR DRIVING ON PUBLIC ROADS.**