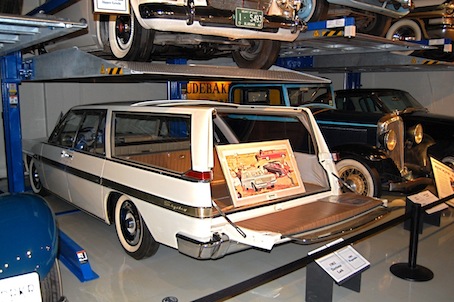 If you go to the Studebaker National Museum in South Bend, Indiana, and you wander downstairs to look at the collections stored in the basement you'll see this white station wagon —  and you might just walk on by, as I almost did.  After all, you've seen these before, it's just a Wagonaire with the innovative reverse sliding sunroof.  Even the sign next to it says it's a "1965 Wagonaire".
Except, it isn't.
Take a closer look.  This is actually a concept car called the Skyview.  Note the suicide doors, the too-delicate roof pillars, the steering wheel, the unusual instrument cluster with fake controls and the vinyl wood paneling appliqué on the inside of the tailgate and the rear seat back.  If you could see the front of the car you would note that, while the styling is similar to later Studebaker Larks, it's more exaggerated — and arguably more attractive — than production versions.
Apparently there is some confusion as to what year to call the Skyview.  Some sources refer to it as a 1962 with others calling it a 1964, while the sign in the museum calls it a 1965 Wagonaire, (which it definitely is not).
The Wagonaire itself was introduced in 1963.  It was designed by Brooks Stevens who did much of Studebaker's design work when the company could no longer afford Raymond Loewy.  The manual sliding sunroof over the cargo area was standard equipment and set the Wagonaire apart from the rest of the industry.  With the panel open, the car would carry taller objects that would never fit in a traditional car or station wagon, like refrigerators or giraffes.
Water leaks in the forward section of the mechanism sent the engineers back to the drawing board but the fix wasn't entirely successful.  As a result, the factory later offered a fixed-roof version as a delete option.  Though sales of the Wagonaire started out fairly strong (for a Studebaker), they quickly petered out and in 1966, the final year of production, only 940 of them were built.  Astute readers will recall that GMC copied this design with its 2004 Envoy XUV, an effort that turned out to be just as futile as Studebaker's.