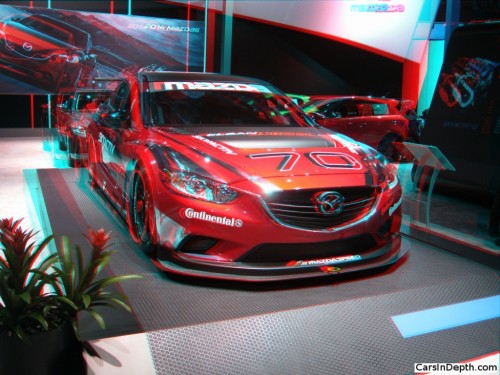 To view the entire photo gallery in 2D or your choice of stereo 3D formats, click here for a Flash player , here for an HTML applet, or here for an HTML5 viewer
Mazda, which has a long and successful history in endurance racing, decided to use the Rolex 24 at Daytona race to introduce the Mazda6 GX, the first diesel powered sedan to race in the Grand Am series. It's a high profile effort and is no doubt intended to help promote Mazda's SkyActiv D diesel engine that will be available in the Mazda6 later this year. Obviously, with its background in rotary engines, Mazda has some experience racing unusual powerplants, and it's not such a revolutionary idea since Audi and Peugeot have both raced diesels to considerable success in long distance racing including at LeMans.
The three Mazda6 GX cars in the Daytona race are being campaigned by Speed Source, the company owned by multiple Rolex 24 winner Sylvain Tremblay that manages Mazda's factory backed race effort in North America. Mazda sent the Coral Gables, Florida race shop the very first five SkyActiv D engines off the Hiroshima assembly line. Mazda and Speed Source are treating the Daytona race as an extended testing session since the cars were only recently completed. Getting the gearing right is critical as the torquey diesel has a peaky power curve. The twin, two stage turbocharged engine doesn't really come on the power until 3,500 rpm.
It also looks like there are some teething problems. Early into the race, all three Mazda6 GX racers were in the garage, with the #00 and #25 cars both down two cylinders and retired from the race. They hoped to get the #70 car back on the track but I just checked and at a bit more than 5 and a half hours in all three diesel Mazda6 racers are out of the race. If they do manage to return to competition, we'll update the post.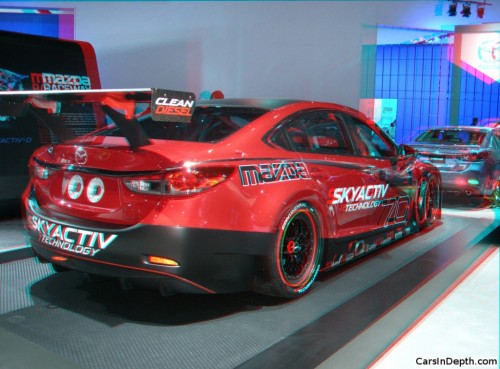 To view the entire photo gallery in 2D or your choice of stereo 3D formats, click here for a Flash player , here for an HTML applet, or here for an HTML5 viewer