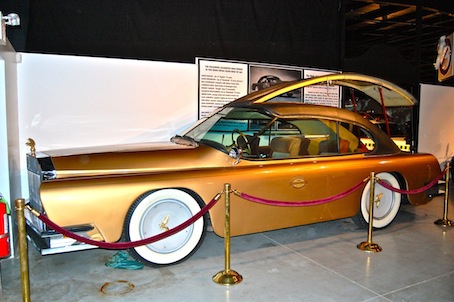 If this isn't the ugliest car ever conceived, it certainly is one of the wackiest.  Okay, it is one of the ugliest, too.
Bruce Baldwin Mohs, of Madison, Wisconsin, is a designer, engineer and entrepreneur but mostly, it seems, a self promoter.  His autobiography is titled, humbly enough, "The Amazing Mr. Mohs".  He founded the Mohs Seaplane Corporation, but the company doesn't actually manufacture seaplanes.
He did build cars, though.  A couple of them, anyway.  This was his first effort, the Mohs Ostentatienne Opera, a super-luxury saloon for the very, very discriminating buyer.  Mohs started with an International Harvester truck chassis and V-8 engine and then added his own custom body work.  Horsepower is listed as "adequate".
To enhance the safety of his creation, Mohs reinforced the sides of the vehicle with full length steel side rails.  Since those side rails didn't allow for door openings, Mohs crafted a giant lift gate, hinged at the front and opening from the back, as the single entry/egress point for driver and passengers.
Though a convenient drop-down step facilitated your initial climb into the Ostentatienne, the high, full-length center console and not-quite-tall-enough roof meant that you had to crawl on your hands and knees to get to your seat.  And you prayed that you didn't get rear ended or you wouldn't be getting out again.
Mohs offered two models, the Model A with a 304 cid V-8 and the Model B with a 549 cid V-8.  Standard equipment included a refrigerator, a gold-inlaid Walnut instrument panel, velvet upholstery, Ming Dynasty-style carpeting, special safety bucket seats, a 110-volt converter and a butane furnace.   Advertised prices of between $19,600 and $25,600 put the car out of reach for most buyers back in 1967 and its hideous styling kept the well heeled away, as well.  Though actual production figures aren't available, this is probably the only one that was ever built.
The car was hauled out of storage a couple of years ago and given to a high school shop class from Franklin, Wisconsin, for a full restoration so that it could be shown at the Iola car show. (Really?)  It currently is reposing in Wayne Lensing's Historic Auto Attractions in Roscoe, Illinois.
(For an account of the restoration of the Ostentatienne, go here.)