Cars In Depth has the honor of having Murilee Martin, high mucky muck judge of the 24 Hours of LeMons endurance racing series, as one of our contributors. Murilee's been shooting 3D for years and is shaking down his new digital 3D rig. Here's a taste from the hundreds of stereo images he shot at the recent LeMons race near Houston.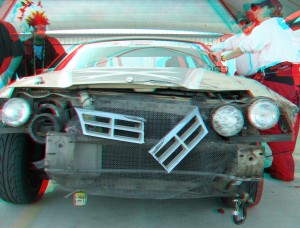 The Cupcake Racing Thunderbird lost its one remaining intact trim component after T-boning an out-of-control Nissan Sentra SE-R. Both Ford and Nissan were back on the track within the hour, thanks to the magic of sledgehammers and junkyard parts.
To view in a variety of 3D modes (and 2D too), clicking on the anaglyph image will launch a Flash viewer in a new window.