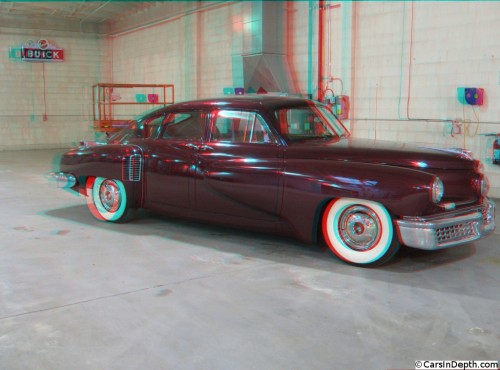 To view the entire photo gallery in 2D or your choice of stereo 3D formats, click here for a Flash player , here for an HTML applet, or here for an HTML5 viewer
George Lucas was the executive producer of Francis Ford Coppola's 1988 motion picture, Tucker: The Man and His Dream, and both men ended up buying Tucker cars, in Lucas' case two of them, #3 and #9 of 51. In 2005, Lucas sold #3 and now,  after a meticulous three year restoration, the current owner is selling the car at RM Auction's upcoming Amelia Island sale. After many years of Tuckers sporting all sorts of modifications to keep them on the road (one has the rear mounted Tucker/Franklin flat six replaced with an front mounted Oldsmobile drivetrain), in recent years the trend has been towards originality, with Tucker experts like Mark Lieberman and Martyn Donaldson providing guidance (and in Lieberman's case, reproduction parts like the rubber springs for the Tucker's "Torsilastic" suspension). RM is predicting a price of $1.5 to $1.9 million, significantly higher than most Tuckers fetch, about $1.1 million, plus or minus, but that's nowhere near the $3 million that Ron Pratt's Tucker sold for. Pratt's Tucker was a very special car, highly regarded by the Tucker cognoscenti. If the restoration is as good as RM claims it to be, the prediction is probably a fair price.
Note: The Tucker pictured here is #8, in the collection of Richard Driehaus's Chicago Vintage Motor Carriage.
RM Auction catalog description after the jump.
Lot 155

1948 Tucker 48

$1,500,000 – $1,900,000

166 bhp, 335 cu. in. OHV horizontally-opposed six-cylinder engine, four-speed pre-selector transmission, four-wheel independent suspension, and four-wheel hydraulic drum brakes. Wheelbase: 130 in.

An American legend
One of 51 built
The third Tucker pilot-production car
Formerly owned by Bill Pettit and film legend George Lucas
Extensively and authentically restored, with notable attention to drivability

Road & Track magazine founder John R. Bond once said, "A little knowledge about cars can be dangerous." Preston Thomas Tucker was an industry veteran with a lot of knowledge about cars, and he used that knowledge to dream bigger than just about anyone else in the U.S. automobile industry after World War II. The reasons why he did not succeed remain controversial, but success is not only measured in dollars and production numbers. It is measured in lasting memories, and for many, the Tucker 48 remains a rolling symbol of the American dream, as well as one of the most advanced, early post-war automobiles.

Tucker's concept for his car was revolutionary. He intended to use a Ben Parsons-designed rear-mounted engine, with all-independent Torsilastic rubber-sprung suspension and a disc brake at every wheel. Drive was to be by twin torque converters, one at each rear wheel. The body design was penned by former Auburn Automobile Company designer Alex Tremulis, and it incorporated numerous safety features that Tucker promoted, including a windshield that would pop out in an accident, a wide space under the dash-pad into where front seat passengers could duck before a collision, and a center-mounted third headlight that would turn with the front wheels.

Early in the production cycle, the Tucker saw some of those dreams evaporate. The safety features survived, but the Parsons 589 engine and direct torque converter drive proved impractical. Tucker purchased Air Cooled Motors, a New York manufacturer of small aircraft engines, and reworked their product for water-cooling. He installed it in his car, along with a four-speed transaxle borrowed from the Cord 810 and 812.

Eventually, 51 examples of the Tucker 48 were assembled, and of those were the original "Tin Goose" prototype and 50 pilot-production cars. Public acclaim and desire for the new design was at a fever pitch. Unfortunately, it was all for naught. The Tucker Corporation came under the scrutiny of the U.S. Securities and Exchange Commission. The wheels of government ground slowly, and by the time Tucker and his executives were eventually declared "not guilty" in early-1950, the public had lost faith and Tucker had lost his factory. The car once nicknamed the "Torpedo" had been, effectively, torpedoed.

Since so few Tuckers were produced, the cars often varied, with running design and engineering changes implemented along the way. Serial number 1003, the car offered today, was the third car built, and it was the first to have the valance panel between the body and front bumper. Of the six factory colors available, this car is one of 12 originally painted Maroon (paint code 600).

Number 1003 was sold new by the factory to Arkansas Tucker Sales Corporation. Not long after, it was returned to the factory in exchange for car 1002, and it was sent by Farber Motor Sales, of Columbus, Ohio, to Cincinnati, where it was displayed on the streets and at the Music Hall there. It was promoted in Cincinnati by local dealer Eddie Numerich, and apparently, it remained in the Queen City until June of 1950, when it was sold there by the Watson Auto Auction.

Apparently Art Watson was the buyer of the car, which he took to Florida in 1951 and displayed at his dealerships there. Research points to a 1962 transfer from Watson to William C. Pettit III, of Louisa, Virginia, brokered by the late Paul Stern, who drove it from Pennsylvania to its new home. The Tucker was a visitor favorite at the Pettits' Museum of Motoring Memories, open for several years near the tourist mecca of Natural Bridge in the 1960s. Bill Pettit cared for his family's cars for decades, and even after the museum closed, he sentimentally maintained the collection. In the late-1980s, his retirement resulted in the sale of many of the cars, including the Tucker, which was purchased by none other than George Lucas.

To the moviegoer, Lucas' name requires no introduction. His is the visionary imagination behind Star Wars, the 1977 blockbuster that revolutionized moviemaking, as well as for other box office smash successes, such as the Indiana Jones series. His Lucasfilm Ltd. and its groundbreaking special effects division, Industrial Light & Magic, became an entertainment industry heavyweight, making him among the most successful and prominent figures of the Hollywood film community. One of Lucas' contributions was as executive producer of Francis Ford Coppola's 1988 film Tucker: The Man and His Dream, a fictionalized version of Preston Tucker's story, starring Jeff Bridges. The film revived modern interest in the Tucker and has become something of a cult classic among automobile enthusiasts.

Both Coppola and Lucas acquired genuine Tuckers, of which, Lucas's 1003 sat proudly in his private collection at his Skywalker Ranch. After several years, the filmmaker decided to sell one of the pair he owned and to pass this car on in June of 2005. It was eventually acquired by the present owners in California, who elected to have the Tucker fully and properly restored.

Several years of exhaustive work followed, including the straightening and refitting of all body panels, installing all new wiring throughout, restoring all instruments and unique switches, crafting correct upholstery and interior fittings with many NOS parts, carefully refurbishing and refitting all chrome, with special attention given to the rear grille, which required extensive restoration, crafting new, correct wheel-covers, and matching the as-delivered Maroon paint to an original sample in the collection of Tucker guru David Cammack. The majority of the exterior work was carried out by Bata Mataja's B.A.D. Company in Sun Valley, California, with a myriad of finishing touches and a sorting of the mechanical restoration undertaken by Martyn Donaldson, a Tucker Club historian in Los Angeles. Mr. Donaldson is acknowledged as a leading specialist on Tucker authenticity, with first-hand familiarity with 40 of the 51 examples produced. Photographic documentation of the restoration is available for review. Importantly, unlike many Tuckers today, great attention was given to sorting this car mechanically so that it would be a reliable road car. Accordingly, it was driven on the freeway to a show at the Art Center College of Design, and it remains not only a beautiful automobile, but one that is fully and robustly functional. As can be imagined, it is a particular thrill, enjoyed by a remarkably fortunate few, to see one of these dramatic and historic cars on the road under full power.

Tucker number 1003 spectacularly represents the fulfillment of Preston Tucker's dream. A little knowledge about cars can be dangerous, but it can also result in something so full of passion and fascination that it can survive bureaucracy and time to become an icon of its age and the ultimate validation of its creator. It is the American dream on four wheels.

Please note that since the publication of the print catalogue, significant, additional early ownership history has been uncovered on the 1948 Tucker. The updated catalogue description is available at rmauctions.com. Please see an RM Auctions specialist for further details.