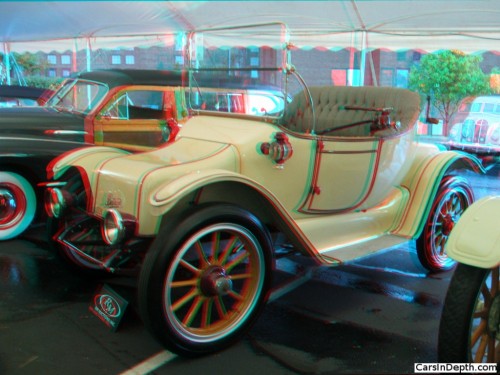 To view the entire photo gallery in 2D or your choice of stereo 3D formats, click here for a Flash player , here for an HTML applet, or here for an HTML5 viewer
When I saw this Detroit Electric roadster I was a bit surprised. Though very early electric cars, like most early cars, were open vehicles, almost all of the electric motor cars from the teens and the twenties that I've seen at car shows, museums and on sale at auction have been closed cars, usually broughams. Remember, once gasoline started its ascendancy, electric car companies increasingly promoted their vehicles as town cars and marketed them to women, many of whom could not hand crank start a gasoline car. EVs were touted as clean and quiet. A car that let you arrive in style, and still with clean clothes, too! This jaunty cape top roadster is rather sporting looking compared to the tall top-hat style of the electric broughams. Of course, jaunty and sporting are relative terms when you're talking about a car with a tiller instead of a steering wheel and a top speed of 20 MPH.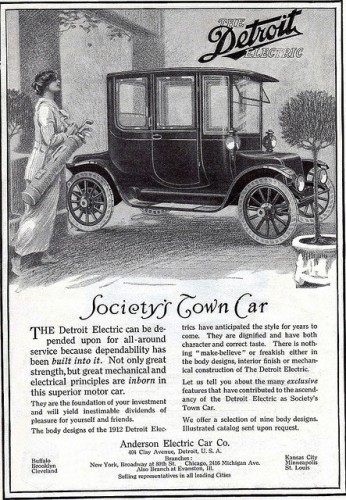 This Detroit Electric roadster sold for $99,000 at RM Auctions 2012 St. John's sale. That's about double what a Detroit Electric brougham of the same vintage and condition would go for. Perhaps that's because this is one of only three that are known to exist and the only that's one likely to change hands in a generation or two (the Rockefeller family owns one and the other is in the National Automobile Collection in Reno).
Auction catalog description after the jump.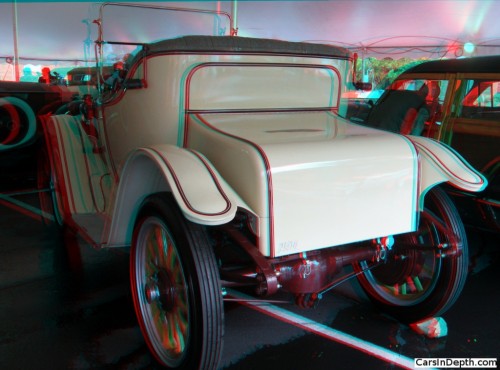 To view the entire photo gallery in 2D or your choice of stereo 3D formats, click here for a Flash player , here for an HTML applet, or here for an HTML5 viewer
ST. JOHN'S
Lot 160
1914 Detroit Electric Model 46 Cape Top Roadster
Sold for $99,000
Chassis no. 6367
Motor Number 11916
• Known ownership from new • Ex-William Harrah and James Cousens • Offered from the Estate of John O'QuinnIn 1911, Detroit Electric offered no fewer than three roadsters, defying the more conventional upright coupes and broughams. Company records show that this car was shipped to the California Electric Garage on November 20, 1914. It had been ordered by Robert Liddle, of Pasadena, and cost him $2,400. As-delivered, it had a blue body and chassis with "#53 cloth" upholstery, a standard offering. Later it was owned by the Norris Claberg family, of Oxnard, California. Mrs. Claberg sold it to William Harrah in the mid-1960s, after the death of her husband. When Mr. Harrah's collection was dispersed in the 1980s, it joined the Imperial Palace Collection, at which time the current restoration was performed. It was shown at the Blackhawk Exposition at Pebble Beach in 2000 and was later acquired by collector John McMullen in Michigan, who passed it on to James Cousens for his Cedar Crossing Collection. Mr. John O'Quinn purchased the car from Mr. Cousens.

As restored for the Imperial Palace, this Detroit Electric roadster is finished in ivory with red moldings and chassis. The artillery wheels are highlighted by varnished wood spokes, and the interior features grey cloth with contrasting beige carpet. Nickel trim is used sparingly, principally on the lights, and is in generally good condition. The aluminum running boards have an attractive cast diamond pattern with the Detroit Electric logo in relief.

It is believed that only two other Model 46 Detroit Electric roadsters still survive. One example, originally owned by socialite and philanthropist Abby Aldrich Rockefeller, is on permanent display at Kykuit, the Rockefeller Estate in Tarrytown, New York. The other example is at the National Automobile Museum in Reno, Nevada; therefore, leaving chassis 6367 the only example that will likely be offered to the general public for a generation.

Please note that this vehicle will be sold on a Bill of Sale only.