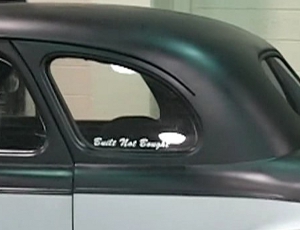 Though the lustrously painted and plated six-figure, professionally built custom cars that compete for the Ridler Award get a lions share of the attention at the Detroit Autorama upstairs at Cobo Hall, the enthusiasts who make up the heart of the customizing world head downstairs to the Michigan Hall. The lower level at Cobo is filled bumper to bumper with rat rods, unfinished projects, and assorted cool cars and trucks that would look out of place amidst the trailer queens under the bright lights upstairs.
To be honest, at this point the rat rod craze is starting to bore me a bit, with "patina" becoming to rodders what clear taillight lenses used to be to import tuners. I think I'm not the only one with that sentiment since one of the vehicles in competition for the Ridler Award was an "anti rat rod", a custom in the style of a rat rod, only fully kitted and painted to car show award level.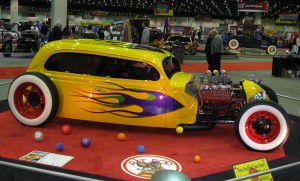 Rat rods were initially a reaction to those who "built" rods with their checkbook, a return to rod and custom roots, using whatever junkyard parts you could cobble together. Hence the "built not bought" motto on the rod pictured above. Now, rat rods have themselves become a bit establishment. I'm sure that in a few years some other trend will capture the fancy of gear heads.
I don't think it's necessary to create ghettos and gated communities in the world of car culture. I'm quite sure that Mr. & Mrs. Ricks love their Ridler winning Suncammer '56 Ford as much as the folks who put together the Dirty Sanchez panel truck on display in Cobo's basement love their custom hot rod. In fact, I'd hazard a guess that the Ricks can appreciate the panel truck and the Sanchezes can appreciate the Suncammer.
One thing, though. One of the vehicles that got the most attention from show attendees, upstairs or downstairs, was a crudely chopped rat roddish wrecker. It had four identical downdraft carbs. If you're going to do it wrong, do it wrong. My idea of a rat rod would have had four completely different carbs.
Below are 3D photos and more video of the rat rods and other enthusiast built customs at the Autorama Extreme display downstairs @ Cobo Hall. Click on the thumbnail gallery to launch a Flash player of the still photography with your choice of 3D and 2D modes.