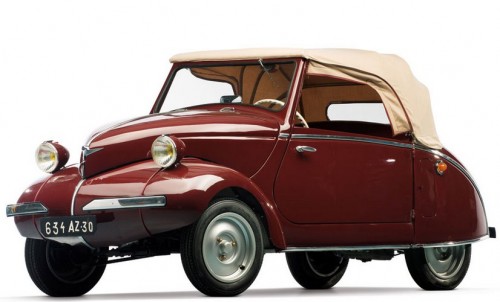 We've mentioned the story of Josef Ganz before. Ganz was instrumental in popularizing the idea of a "volkswagen", an inexpensive peoples' car, in Germany in the late 1920s and early 1930s. Mercedes and BMW both hired him as a consultant and his Maikäfer, "May beetle" prototype and his patents became the basis for small cars made by Superior, Bungartz and Gutbrod before Ganz, a Jew, fled Germany. After World War II, the Rapid company of Switzerland produced a short run of cars based on Ganz's designs as did the Julien company of France. Bruce Weiner just auctioned off his outstanding collection of microcars, including one of those Ganz Juliens, a MM5, and it sold for $54,625. Somewhere Josef Ganz is smiling. Auction catalog description and more photos after the jump.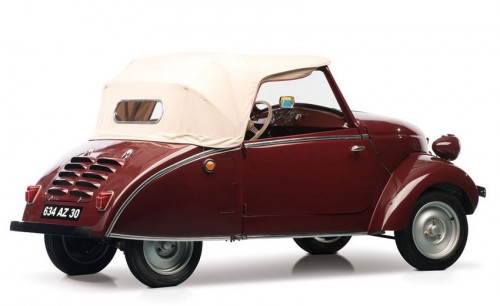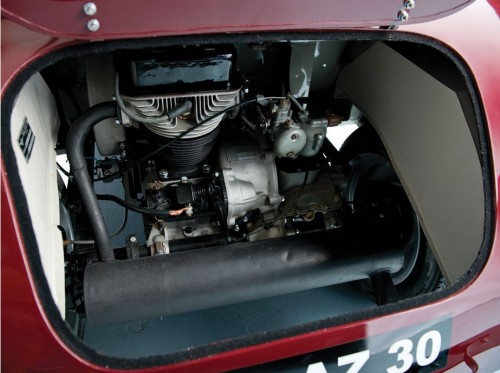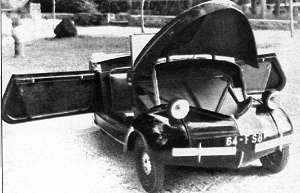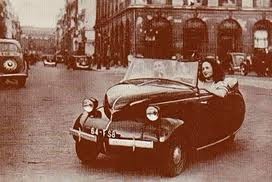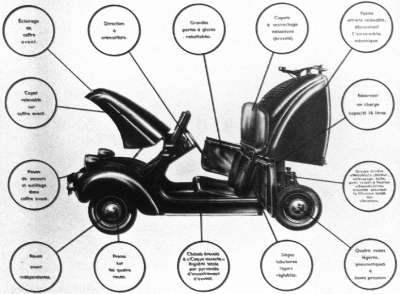 ID No.4850
Estimate:
$45,000-$55,000 US
AUCTION DATE:
To be auctioned on
Friday, February 15, 2013
OFFERED WITHOUT RESERVE
Fully restored French microcar with sophistication by Maurice Julien.
SPECIFICATIONS
Manufacturer: Société Études des Automobiles M.A. Julien
Origin: Toulouse, France
Motor: Julien 1-cyl., 4-stroke OHV
Displacement: 325 cc
Power: 10 hp
Length: 9 ft. 3 in.
Identification No. 52650
Maurice A. Julien was a very well qualified engineer, known particularly for his work on the development studies of the Citroën Traction Avant, which made its debut in 1934. He retired to Toulouse at the beginning of the war, but during the Occupation, materials, especially gasoline, were very severely restricted, and Julien designed and built pedal cars as did Georges Mochet with his Velocars. In comparison, however, Julien's Neocar was stylish and sleek, with its long hood, sweeping fender lines, and double kidney grille. It was mechanically more sophisticated than the average pedal car, as the front wheels were driven by cardan shafts, it employed a limited slip differential, and it used a derailleur, which permitted one or two people to pedal at different rates. Due consideration was given to the control of vibration. The last months of the Occupation saw second generation motorized versions in circulation. Finally, in 1944, the engineer had ready a much more sophisticated car, a coupe, which was close to the one that would debut at the 1946 Salon.
The two Julien cars that appeared at the Paris Salon of 1946 were set apart from the many other small vehicles on offer by the name of their distinguished creator. The Type VUP, which was recognizable by its open rear wheels and full-width axle, was powered by a flat-twin motor. The similar MM5 had narrow, enclosed rear wheels and was powered by a single-cylinder motor. Both cars were fitted with sliding windows. The VUP would not see production. The following year was taken up with dealings with government bureaucracy to receive permission to develop the MM5 as a production car. Detail improvements were attended to, resulting in better ventilation and braking and a slightly enlarged motor—a result of vigorous road testing.
The car that made its appearance at the Paris Salon of 1947 was a beautifully proportioned cabriolet with sensuous curved body lines and attractively rounded fenders, which flowed together at the front, underneath an exquisitely-shaped pointed hood. One could immediately see the heritage of the Traction Avant in the strong central-welded bulkhead structure-cum-windshield frame curving up from the sills. The front hood was hinged from this structure below the windshield, and the entire rear engine cover hinged upwards from behind the seat, allowing unhindered access to the motor and drivetrain. The sliding windows had now been replaced by windows hinged at the door-top to fold down into the interior of the car and into the doors themselves.
Finally, the Julien car shown at the 1948 Salon was actually for sale. At 200,000 francs, it was the same price as that of his archrival de Rovin's new D3 model. Julien also had on display a tiny van-like station wagon capable of carrying a load of 550 pounds. Its harsh, straight lines and rudimentary wood-and-masonite bodywork contrasted sharply with the sweeping curves of the MM5. Its crude, flat, wooden seats were less than inviting, even for a commercial, and the van remained a prototype.