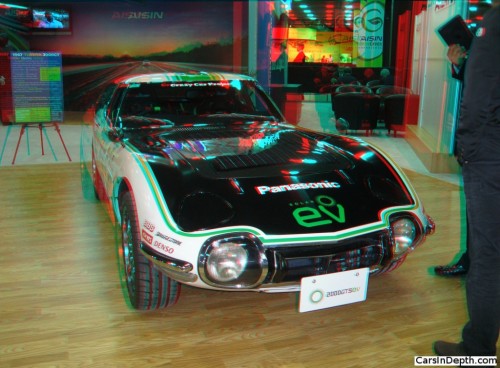 To view the entire photo gallery in 2D or your choice of stereo 3D formats, click here for a Flash player , here for an HTML applet, or here for an HTML5 viewer
With only 353 of them made, many fans of the Toyota 2000GT are dismayed by the sacrilege of this vehicle. A Japanese collector who owned five 2000GTs, donated one of them to the Toyota Motor Association's "Crazy Car Project", which removed the DOHC inline six, replaced it with an electric motor and slathered solar cells on the hood and roof  to create the 2000GT SEV. Presumably the S stands for solar. The car was first introduced in 2012 at the Tokyo Auto Show and its been doing the show circuit, including the Goodwood festivities where it was raced up the hill.
These photos were taken at the 2013 NAIAS. Frankly, the conversion to an EV doesn't bother me that much. While the 2000GT is a rare and special car, with today's restoration standards, and with the value of a restored 2000GT being well into the six figures, I'm sure that the CCP's 2000GT SEV could be reverted back to factory condition without getting upside down. It's not like they just threw out that engine.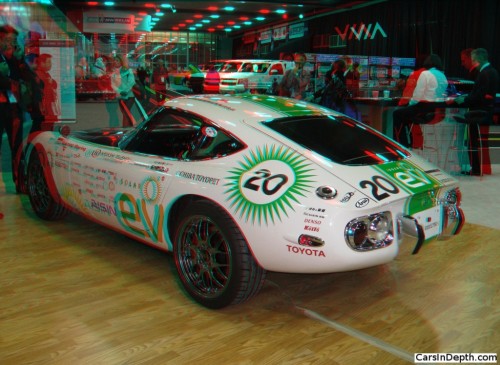 To view the entire photo gallery in 2D or your choice of stereo 3D formats, click here for a Flash player , here for an HTML applet, or here for an HTML5 viewer