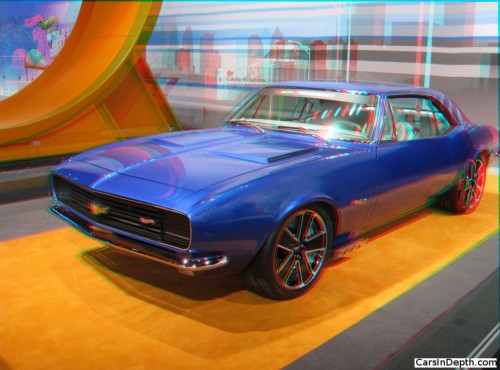 To view the entire photo gallery in 2D or your choice of stereo 3D formats, click here for a Flash player , here for an HTML applet, or here for an HTML5 viewer
We showed you the special Hot Wheels edition Camaro that Chevy will be selling when we covered the 2013 Detroit auto show. For the Chicago show, Chevy also brought out the 1967 Camaro Hot Wheels concept which was built for the 2012 SEMA show to promote GM Performance's new emissions-compliant LS3 E-ROD "Connect and Cruise" crate motor. The show car is supposed to be a full sized version of one of the most collectible of Hot Wheels models, the "Custom Camaro" that Mattel introduced in 1968, one of the "Sweet Sixteen", the original 16 Hot Wheels cars. According to the Hot Wheels site, there are five full size versions of Hot Wheels cars, (Twin Mill, Deora, Deora II, a 1966 Pontiac GTO, a 2006 Ford Mustang GT, and the Whatta Drag custom Isetta that Bruce Weiner had built). Now there are six.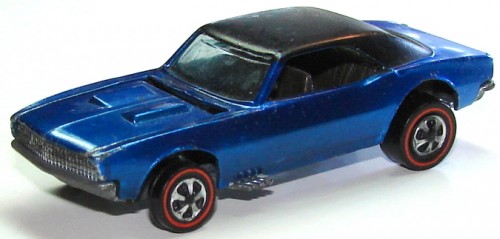 The full size concept is painted in Kinectic Blue, like the production 2013 Hot Wheels Camaro, reproducing much of the look of the original's "Spectraflame" blue finish. Because some things don't scale up well, the concept doesn't exactly reproduce the proportions and stance of the die cast model, but the concept does have the original's rectangular side "zoomie" exhausts, shaved door handles, and, like the 2013 Hot Wheels Camaro, red striped wheels that replicate the look of the original red stripe tires.
Press release after the jump.
Chevrolet Performance 1967 Camaro Hot Wheels® concept

Forty-four years after its gleaming Spectraflame paint job, side-exit "zoomy" exhausts and red-line wheels launched playtime fantasies for millions of children of all ages, Chevrolet Performance has paid homage to the original Hot Wheels "Custom Camaro" toy with a full-scale tribute. It also introduces an all-new, emissions-compliant LS3 E-ROD Connect and Cruise crate powertrain system that matches the 430-horsepower LS3 engine with a 4L65-E four-speed automatic transmission.

Translating a 1:64-scale toy car into a 1:1 real car is complicated, as the proportions don't exactly match a full-scale first-generation Camaro, but the designers interpreted the original toy in a way that conveys its spirit in a realistic form. The concept vehicle painted Kinetic Blue, just like the forthcoming Camaro Hot Wheels® Edition production model.

"A literal interpretation of the toy car would have been too cartoony – it just wouldn't look right on a full-size car," said Chevrolet Design Manager Dave Ross. "The stance and wheels of the concept vehicle are different, as well as some of the proportions the toy has, but the body lines and styling cues are all the same."

Additional vehicle highlights include:

Shaved door handles with remote keyless entry
Hood that matches the design of the original Custom Camaro toy
Hot Wheels exterior badges and grille emblem
Stainless steel "zoomie" side-exit exhausts
Custom 18×9-inch (front) and 18×11-inch (rear) aluminum wheels with red-line accents
2012 Camaro front bucket seats with shortened head restraints, trimmed in white leather with blue accent stitching
Silver vinyl-wrapped instrument panel, door panels and rear inner quarter panels
Silver perforated headliner and sunshades
Custom instrument panel and console gauge kit
Leather-wrapped steering wheel.

In addition to the new LS3 E-ROD Connect and Cruise crate powertrain system, drivetrain and suspension components include a hydroformed front subframe with tubular control arms and adjustable coil-over shocks, a four-link rear suspension with adjustable coil-overs, rack-and-pinion steering and heavy-duty four-wheel disc brakes featuring six-piston calipers.