Start the YouTube 3D video player. Click on the 3D icon in the menu bar to select 2D or your choice of stereo 3D formats.
The winner of today's Daytona 500 race will have his or her name added to one of the most  famous trophies in sports, the Harley Earl Trophy. Earl, who was the first head of styling for General Motors, was a good friend of NASCAR founder Bill France Sr.
Since the 40th running of the race in 1998, winners have also gotten a replica of the actual trophy, which remains at Daytona International Speedway. To honor his friend Earl, France had the trophy topped with a sterling silver model of the Firebird I show car, a functioning jet-engined airplane on wheels that was one of the stars of the 1953 Motorama.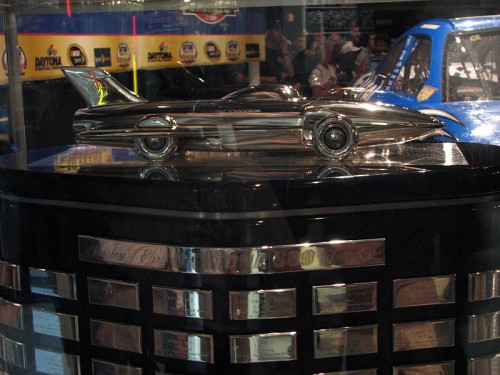 While the Harley Earl Trophy sits in a place of honor at Daytona, the actual Firebird I sits in its own place of honor at the General Motors Heritage Center, where this 3D video was shot.