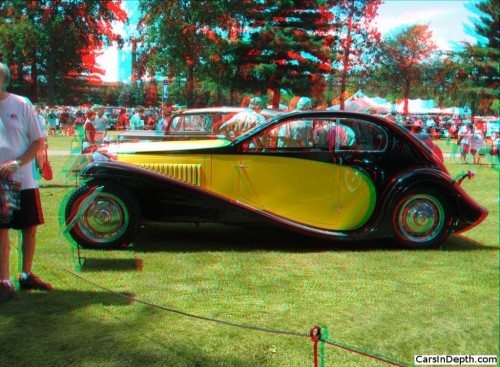 To view the entire photo gallery in 2D or your choice of stereo 3D formats, click here for a Flash player , here for an HTML applet, or here for an HTML5 viewer
Known as "La Petite Royale" because Jean Bugatti gave it the proportions of a scaled down Royale, the Type 46 was popular with coachbuilders. Like all of Jean's father Ettore Bugatti's cars, it was technically advanced for its day. It had a 5.4 liter straight eight engine with a single overhead cam operating 3 valves per two spark plug equipped cylinder, putting out 140 HP. In what has to have been one of the first applications of this layout, the T46 had an engine up front driving a rear transaxle, a transmission and final drive combined in one unit. The T46 was very popular with coachbuilders. The 450 T46s made carried 40 different body styles. Still, perhaps the finest T46 was the Superprofile Coupe designed by Jean Bugatti himself.
This particularly Bugatti T46 originally was a conventional sedan called a conduite interieure.  The previous owner had had the T46's chassis clad with a replica of one of Jean Bugatti's Superprofile Coupes, crafted by respected Australian restorer and coachbuilder Ken Haywood. I suppose one could question if this is a "real" Bugatti because of the modern built body, but, as mentioned, so many of the T46 Bugattis built had bodies built by outside comanies, and rebodies are not exactly unknown in classic car circles. Rich folks had cars rebodied when styles changed faster than technology. Serious collectors today seem to have few objections to modern recreations on period chassis like this car or the La Grande Speedster replica Duesenberg. The recreation sold at RM's Amelia Island March 2012 auction for just over $1 million. These photos were taken at the 2012 Concours of America.
RM Auction catalog description after the jump.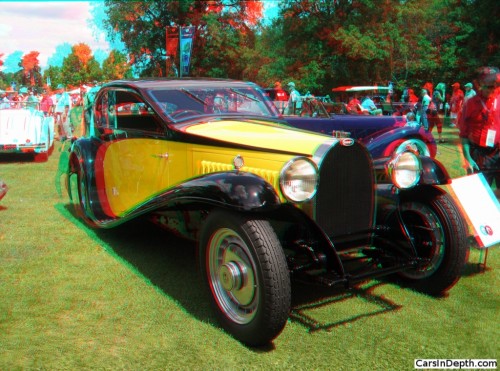 To view the entire photo gallery in 2D or your choice of stereo 3D formats, click here for a Flash player , here for an HTML applet, or here for an HTML5 viewer
Amelia Island Saturday, March 10, 2012

1930 Bugatti Type 46 Superprofile Coupe
LOT: 178
Estimate: $1,250,000-$1,750,000 US
Chassis No. 46208
AUCTION RESULTS: Lot was Sold at a price of $1,017,500

140 bhp, 5,359 cc SOHC inline eight-cylinder engine with three valves per cylinder, three-speed manual gearbox, front semi-elliptic leaf springs and rear inverted quarter-elliptic leaf springs, and four-wheel, cable-operated drum brakes. Wheelbase: 3,505 mm (138″)

• A faithful recreation of Jean Bugatti's Superprofile coachwork
• A "companion" model to the T41 Royale

Barely 30 years elapsed from the emergence of the first Type 13 Bugatti until the cessation of production at the onset of the Second World War. In that time, an almost endless stream of models and variants poured forth from Ettore Bugatti's works, each of them meticulously crafted from the finest materials and lovingly detailed by dedicated artisans. Of all Bugatti models, one of the most elegant, imposing and luxurious was the Type 46, which was introduced in late 1929, and approximately 450 examples were produced to 1933. The steel ladder-type chassis of the Type 46 featured a long 138-inch/3,505-mm wheelbase and was powered by an equally impressive, long-stroke 5.4-liter inline eight engine featuring a single overhead camshaft. Its impressive specifications included three valves per cylinder and twin spark plugs per cylinder, which delivered a stout 140 brake horsepower. Engine durability was also very good, by virtue of the engine block casting itself, which extended down to the main-bearing supports. Consequently, the engine's structure was rigid and thereby provided exceptionally smooth operation.

The three-speed manual gearbox was mounted within a rear-transaxle unit, marking another technical innovation of the basic T46 design. Four-wheel, self-adjusting cable-operated brakes with 16-inch drums provided stopping power. Wire-spoke wheels were used early in the T46 production run, while stylish, vane-type "Royale-style" alloy wheels were fitted to the later cars. The T46 also influenced the mechanical specifications of the long-wheelbase T50, which shared the T46 chassis, radiator and transaxle assemblies.

The combination of Type 46 attributes, especially when its fine chassis and engine is clothed in sophisticated coachwork, makes it one of the most appreciated Bugattis. In fact, the T46 is perhaps best known as the "Petit Royale," so-named for its striking resemblance to the Type 41 Royale, which remains famous for its massive 4.3-meter wheelbase and 12.8-liter engine. With the Type 41 Royale's engine displacing roughly 2½ times the volume of the next Bugatti model offered, the Type 46 "Petit Royale" very capably bridged this otherwise massive gap in the manufacturer's model range.

As described in the definitive book Bugatti Type 46: La Petite Royale by Bohuslav Klein, Roland Saunier and Kees Jansen, the T46 remains highly significant in the Bugatti pantheon as one of the marque's most influential road-going models. As they wrote, "no other Bugatti Type motivated so many European bodymakers in the thirties, to build such exclusive bodies, as this one did." They further stated that no fewer than some 40 custom coachbuilders applied their unique artistry to the T46 chassis during the model's relatively brief production run.

As noted in their authoritative reference, chassis 46208 was originally mated to and still retains engine number 77. It was ordered as part of a package of two cars, the other being 46202, by Bugatti dealer Dominique Lamberjack of 68 Rue Bayen, Paris on January 10, 1930. These chassis cost 72,200 Francs apiece and were delivered on February 1, 1930. It is believed that the original coachwork on 46208 was the four-door style known as conduite interieure. In 1932 the car was registered in Agen, capital of the Lot-et-Garrone department, with plate number 3630 JV1. In 1935 it was sold to a gentleman by the name of Grenier and on to another fellow named Rodriguez in 1937, who lived in nearby Villenueve-sur-Lot. Some time around this period it returned to Paris wearing plate number 6324 RL4. Later on, it was bought by Baron John Raben-Levetzau, owner of Aalholm Automobile Museum in Nysted, Denmark.

The present owner opted to have the drab sedan coachwork replaced with a faithful recreation of the "Superprofile" coupe penned by Jean Bugatti, which some argue is the finest of all of his designs. The coachwork was produced by Mr. Ken Haywood of New South Wales, Australia, who has been responsible for many award-winning cars. This photo-documented restoration and coachbuilding effort is regarded as one of his finest results. Only a very small number of the profile series of cars, with their steeply raked windshields coupled with dramatic fender lines that predate those of the celebrated Mercedes-Benz 500K, are known to exist. Jean Bugatti's gifted ability to follow through when he penned these lines is evident in the marvelous upward curve at the end of the rear fenders and the yellow panel sweep that contrasts with the deep black paint.

The beautifully appointed interior is brown ostrich leather complemented by a flawlessly finished wood dash and steering wheel rim, which appear even more inviting due to the warm glow of the dual instrument lights. The balance and presentation of the interior is highlighted by the front seats which look more like lounge chairs belonging on a sunny patio than automobile seats. This design is so timeless that its simplistic style was emulated with the interior of the Spyker "Peking to Paris" SUV. The engine turning on both sides of the firewall, cylinder head and other components displays not only the cleanliness and quality of presentation but also serves as a reminder of the legendary machine fit of the engine components.

The entire finish of this car is consistent from the body and concours-quality paint which is matched by the finish of the chassis and suspension components. The lithe Superprofile body is augmented by a restrained amount of chrome that adorns the handles and latches, horseshoe radiator surround, Scintilla headlights and matching fender lights. The entire assembly rides on Royale-style wheels shod with period correct Goodrich Silvertown tires. Chassis 46208 was shown and won honors at the 2011 Sydney Concours and will garner high praise and attention wherever it is shown around the world. It is a remarkable feat of coachbuilding prowess as well as legendary Bugatti engineering.