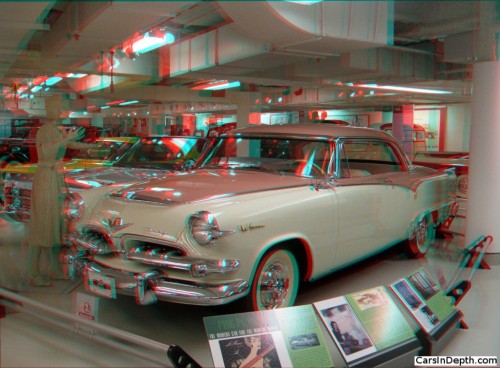 To view the entire photo gallery in your choice of 2D or stereo 3D formats, click here for a Flash player, here for an HTML applet, or here for an HTML5 viewer
Some say that the new Ferrari supercar's name reminds them of how Renault branded the R5 in the United States, "Le Car". Madame Arsenault, my high school Français teacher,  would be disappointed in me if I didn't point out that Le Car is masculine while La Ferrari is feminine. Perhaps because of gender or perhaps because of alliteration, the new Ferrari's name reminds me most not of Le Car but rather of La Femme, a special Dodge Custom Royal Lancer that was marketed to women in 1955 and 1956. It came in a pink and white two-tone finish inside and out and even had its own matching pocketbag, umbrella and cosmetics compact.
It's somewhat fashionable to mock 1950s gender attitudes as sexist, to put down the La Femme, or the concept cars that GM's "Damsels of Design" produced, but it has to be remembered that the role of women was changing dramatically then and car companies and ad agencies alike were trying to cope with those changes. Starting with the Rosie the Riveters of the WWII years, women started entering the work force in greater numbers. On the domestic front they had greater voices in major family purchases. The La Femme may be the most glaring to our modern attitudes, but you can see, in the advertising materials used by car makers in general in the 1950s, that appealing to women was starting to be an important part of selling cars.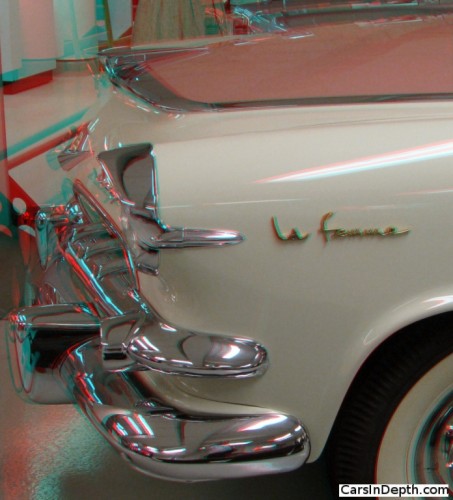 To view the entire photo gallery in your choice of 2D or stereo 3D formats, click here for a Flash player, here for an HTML applet, or here for an HTML5 viewer