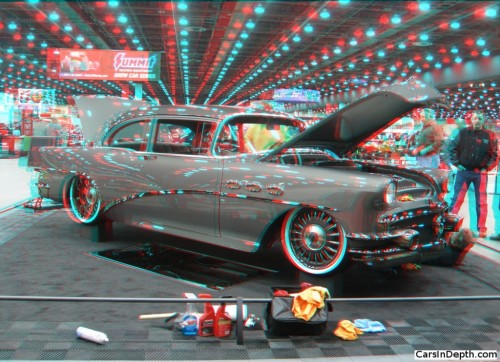 To view the entire photo gallery in your choice of 2D or stereo 3D formats, click here for a Flash player, here for an HTML applet, or here for an HTML5 viewer
Troy Trepanier and his crew had three cars right up front in Cobo Hall for the 2013 Autorama, a custom C1 Corvette, a Torino Talledega built for hot rod maven and collector George Poteet, and Rad Rides by Troy's Ridler Award hopeful, "Nailed", a '56 Buick built for Mark and Wllen Willman of Blue Grass, Iowa. The car's name is a reference to the twin turbo 401 CI Buick "nailhead" engine installed in this pristinely clean build. It's full of trick details but everything is done so neatly that it's easy to miss them. The Willmans are planning on using it as a pro tourer, so for the go in addition to the twin turbochargers, the engine is dry sumped and fuel injected. For the show is a monochromatic graphic scheme with dark grey paint,  embellished with both polished and brushed black nickel plating along with conventional nickel plating as well.
Automotive trivia: The Buick Nailhead got that nickname from the vertical arrangement of the intake and exhaust valves. That meant fairly small valve diameters, the object of Ford, Chevy and Mopar enthusiasts mocking the Buick motor as have valves like nails, which eventually led to the engine being called, affectionately by Buick fans as the nailhead.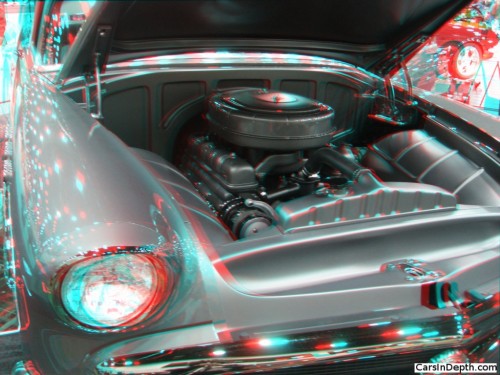 To view the entire photo gallery in your choice of 2D or stereo 3D formats, click here for a Flash player, here for an HTML applet, or here for an HTML5 viewer