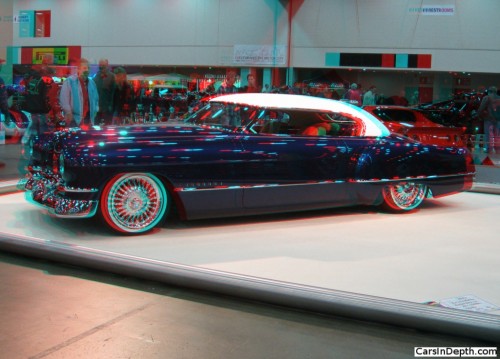 To view the entire photo gallery in your choice of 2D or stereo 3D formats, click here for a Flash player, here for an HTML applet, or here for an HTML5 viewer
When custom designer Chip Foose started working for the late Boyd Coddington in 1993, the first car that he designed was a Cadillac convertible named Eldorod based on a 1948 Eldorado. It also turned out that Eldorod was the last car built by Hot Rods by Boyd before it declared bankruptcy in 1998. Because of the need to get the car delivered on time then, some of Foose's original design elements were not implemented. The bumpers and roofline were not as designed and the car was painted maroon instead of the blue Foose envisioned. When Paul and Judy Andrews bought the car their son Chris contacted Foose for his shop to complete his original concept for the car. You can see photos of the build here. When finished the car had its first public showing at SEMA last November. The Andrews brought it to the Autorama but it wasn't eligible for the Ridler Award. Only cars that haven't been shown before are eligible, though I wonder what the rules say about significant revisions.
I reported on the Ridler competition for Hemmings Motor News and someone left a comment there complaining that covering the world of customs and hot rods was "beneath" Hemmings. I guess they only want HMN to cover 100 point factory original restorations. Fortunately, other commenters pointed out that the build quality of Ridler level customs is the equal or better than that of concours winning classics. As if to prove that point, in addition to being hot rod and custom enthusiasts, the Andrews are themselves classic car collectors, having shown Packards and Duesenbergs they've owned at Pebble Beach in years past. Last August their 1928 Mercedes-Benz 680S with a Torpedo body by famed Russo-French designer Jacques Saoutchik won the Pebble Beach Concours' Best of Show award.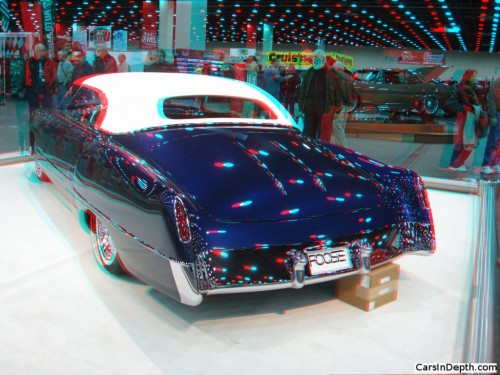 To view the entire photo gallery in your choice of 2D or stereo 3D formats, click here for a Flash player, here for an HTML applet, or here for an HTML5 viewer