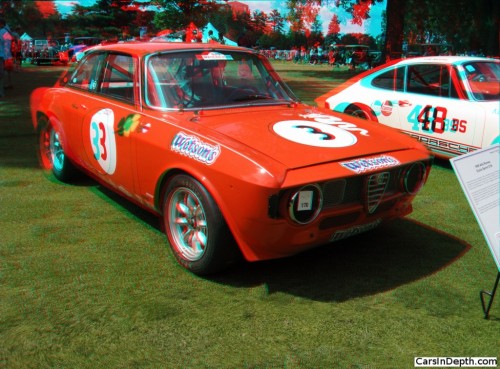 To view the entire photo gallery in your choice of 2D or stereo 3D formats, click here for a Flash player, here for an HTML applet, or here for an HTML5 viewer
The SCCA Trans Am series championships, in that series' golden era, were for manufacturers not drivers. The presence of great talent like Parnelli Jones and Dan Gurney was guaranteed by purses that were substantial for the day.  This car, with Horst Kwech driving, won the 1970 Trans Am championship for the under two liter class, for Alfa Romeo, though since the #2 and #3 cars in the final standings were also Alfas,  the championship wasn't in much doubt.
From the car's placard at the 2012 Concours of America:
The Alfa Romeo Giulia, introduced in 1962, succeeded the popular Giulietta series. It was designed by Bertone and used a shortened floorplan from the Giulia Berlina. The name evolved from Giulia Sprint GT to Giulia Sprint GTJ (Junior) to GTV (Veloce). The aluminum-bodied GTA evolved as a racing version of the street cars. 'A' stands for Alleggerita, Italian for lightweight.

This was the entry car of Horst Kwech for the 1970 Trans-Am Sedan Series under 2-liter (U-2), and was sponsored by restaurant owner Herb Wetson. The GTA was prepraed by Horst Kwech and his partner Ron Neal at 'AUSCA' (AUstralian CAr) racing facility in Illinois. Kwech and this car were so dominant in 1970 from Alfa drivers Lee Midgely and Bert Everett. At the end of 1970, this car were so dominant in 1970 that they won the U-2 class in 1970, under serious competition from Alfa drivers Lee Midgely, who converted it into a 'hybrid tubular' car with the appearance of an Alfa GTV, and raced it in the 1972 Trans-Am series. After a race in Mexico City, Midgely sold the car to a Mexican businessman. After 33 years of exile in Mexico, the car was brought back to the US in 2005 and restored from the ground up. It is presented in the livery in which Horst Kwech raced it in 1970.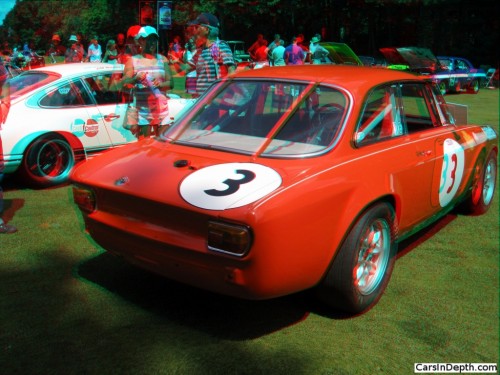 To view the entire photo gallery in your choice of 2D or stereo 3D formats, click here for a Flash player, here for an HTML applet, or here for an HTML5 viewer