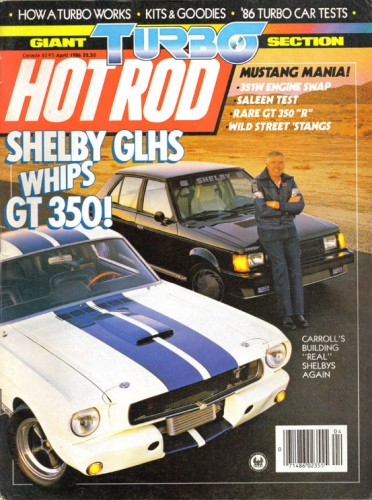 Patrick George over at Jalopnik has posted a 30 year old ad for the Laser, Chrysler's version of the Dodge Daytona. Patrick puts it in the context of Lee Iacocca giving the Chrysler team the design brief of competing with sporty cars like the Toyota Supra or the Pontiac Firebird Trans Am with a K-Car derivation. I suppose that's accurate but in the 1980s, when Iacocca wanted to give the recently resuscitated with Federal loans Chrysler a sporty image with some credibility, with only the  aforementioned K and Simca based Omni/Horizon platforms to work with, Lee turned to his old friend Carroll Shelby.
In the decade or so before his death last year Shelby cemented his relationship with Ford Motor Company but in the 1980s, that relationship, which in the 1960s produced truly legendary cars, championships and wins at LeMans, was at a low point. Even after Shelby renewed his business dealings with Ford following the revival of the Shelby Mustangs, I personally witnessed Carroll Shelby tell long time Detroit area Ford dealer "Hoot" McInerny (they were chatting at a NAIAS in Detroit), "Hoot, if I was ever in trouble and I needed to call  someone in this town, it'd be you."
So maybe Lee and Carroll weren't best buds, but they had a good working relationship and while the "malaise era" cars of the 1980s are not known for being exciting high performance cars, the Shelby Dodges were credible performers. Starting with the Omni based GLH (Goes Like Hell), then the GLH-S (Goes Like Hell Some More), a series of Shelby branded Dodges were made, almost duplicating what 'Ol Shel did with Ford in the 1960s and then more recently. Some were modified and finished at Shelby's own facility and some were developed with his team but manufactured in Chrysler factories.
Some might say that they're cool for their era, but I love oddball cars so I think the Shelby Dodges are cool in general. Davey Johnson at Autoweek put the GLH-S on his of Carroll Shelby's 10 greatest cars – a rarified list indeed. Last summer, the Shelby Dodge Auto Club held its national meet and show at the Walter P. Chrysler Museum on the Chrysler company's campus in Auburn Hills.  Frankly, I thought I'd posted more of these cars, but apparently had only gotten the CSX models online, and the Shelby Dodges, I think, deserve more attention, so for this weekend we'll be running a series of posts with photos from the SDAC meet.