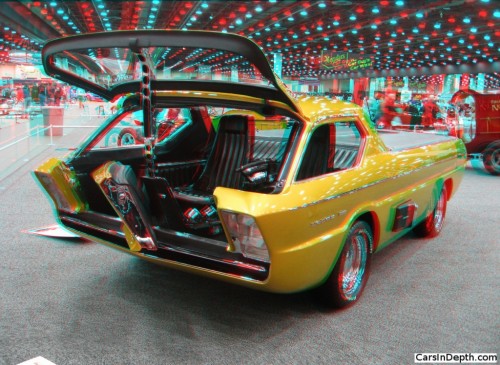 To view the entire photo gallery in 2D or your choice of stereo 3D formats, click here for a Flash player , here for an HTML applet, or here for an HTML5 viewer
We're taking a brief break from the Shelby Dodges to look at an even less common Mopar. The 2013 Detroit Autorama was the 50th anniversary of the first Ridler Award and to commemorate that occasion, 25 past Ridler winning cars were on display. All of them aer notable, but there was a reason why the 1967 winner, Detroit's Alexander brothers' Dodge Deora, was in a particular place of honor right near the entrance to the hall. With millions and millions of die cast models of the Deora made and sold by Mattel under the Hot Wheels brand, it may be the best known custom car in the world. The Deora was one of the first 16 original, so-called "redline" cars from Hot Wheels, but it was already popular as a show car and as a larger plastic 1:25 scale model from AMT before the Hot Wheels brand even existed. AMT, like the Alexander brothers' custom shop, was located in the Detroit area and they were involved with the project as early as 1965, a year after the Alexanders commissioned GM designer Harry Bentley Bradley to draw them a radical pickup based on the then new cabover vans from the Big 3. Though the Dodge A100 was Bradley's least favorite, the Alexanders approached Dodge and the rest is history.
By the way, this applies to many of the cars we feature here at Cars In Depth, but I'm pretty sure this is the only place you can find pics of the car Deora in stereo 3D.